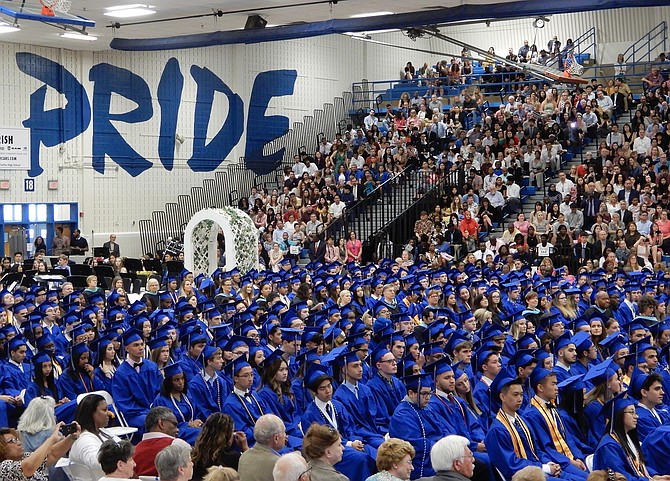 Members of Fairfax High's Class of 2019 will soon scatter throughout the country as they begin the next chapter of their lives. But on Monday, June 3, they gathered together one last time for their graduation in the school's fieldhouse.
"Here you are, this is your moment – realize it," said Principal Erin Lenart to the sea of students in their royal-blue caps and gowns. "It's these milestones you'll look back on someday and feel like they just flew by."
She acknowledged the class's 92 honor grads who earned a 4.0 or higher GPA, as well as those going into the military. And she told them all to "Look around, be proud, breathe deeply and be in this moment. Your parents have been with you, the whole time, and will continue to be. Your teachers, counselors and staff members are your other family and are here for you, too."
Now, as the students move forward, Lenart reassured them that "You are our pride and you are ready – we promise you. You are going to do, not just great things, but amazing things. And it's relative to what you believe is amazing and to what you want for yourselves."
She told them she grew up in a small town where people left it after high school, but later returned to raise their families there. However, she stressed, "There wasn't one, single person from my graduating class whose life ended up more important than another's. That's because we never measured our version of amazing using someone else's ruler. So find your own amazing and be in it."
LENART further advised the grads to not believe that their life's purpose or worth will be found staring at a computer or TV screen. "Be alive and be present for all the little moments – for they become the important, fleeting moments of your lifetime," she said. "Look up and live your amazing life."
"I'm so proud of you, but it took all of us to get you to where you are today," she continued. "So when I give you your diploma today, I'm doing so on behalf of everyone who loved you, believed in you, provided for and inspired you. We are so proud of you. This is your moment – you're going to do amazing things."
Next came the highlight of the whole ceremony: Teacher and Senior Class advisor Bruni Herring – who has a beautiful and powerful voice – sang "Rise Up" and received a standing ovation. After that came the announcement of the Class of 2019's gift to the school – patio umbrellas for the senior court.
The honor grad selected by his peers to represent them with a speech at graduation was Paolo Vicencio. "Over this past year, I've thought about this day a lot," he said. "Today is our Everest and we've conquered it. I've pictured the faces in this crowd, each one smiling, knowing we've made it."
But, he said, "It's also the end of other things, and I could see every mistake, lesson and accomplishment. I remembered the grueling hours of practice on the athletic field, the stage and the classroom. I thought of the championship field hockey games, our arts programs and how good it felt being part of something."
"Through our efforts, we've made something that inspires and empowers us along the foothold to our lives," said Vicencio. "But this is the last time we'll all be together in this room. Times change, things end and people move on. All we can do now is take everything we learned here, good and bad, on our journey. So go, Rebels, and seize the opportunity, thanks to our time here at Fairfax High School."
Then four, special awards were presented. The Most Outstanding Senior honor goes to a student who's an excellent role model for her peers and an inspiration in the community, and this year's award went to Senior Class President Sloan Soyster-Heinz.
FAIRFAX CITY MAYOR David Meyer presented the Service, Faculty and Fairfax awards. First, though, he told all the students, "I commend you on this important milestone in your lives. And know that, no matter where you go, you are always welcome back in your hometown of Fairfax."
The Service Award is for loyalty and service to the school. "This person is a leader, and his kindness to his peers stands out," said Meyer. "He volunteers, is president of the Muslim Student Assn. and will attend JMU in the fall." He then presented the award to Adam Benlemlih.
The Faculty Award for outstanding service, leadership and school spirit went to Xavier Herring. He played on the Rebels baseball team, all four years, and was even its captain. He will attend the University of Mary Washington to major in psychology.
The Fairfax Award was given for service to both the school and community and went to Soyster-Heinz. "She was a leader in the classroom, a swim coach in the community and an EMT for the Centreville Volunteer Fire Department," said Meyer. "She participated in swimming and track at school and will attend Duke University."