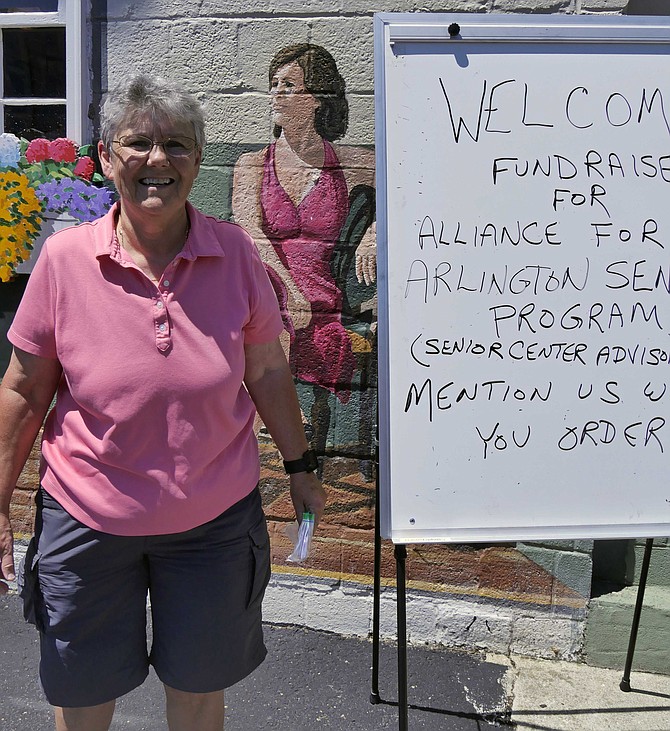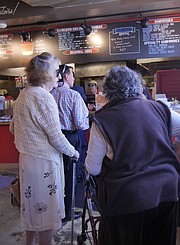 Three-meat platter, belly buster or pork belly sandwich, maybe with cornbread or coleslaw? Chris Black, general manager of Rocklands Barbecue & Grilling Company on Washington Boulevard, says the most popular sandwich at the Alliance for Arlington Senior Programs (AASP) fundraiser on June 4 will probably be the chopped pork sandwich. Black says he has a "giving Tuesday" once a month to give back to the community. His most recent fundraiser was for Washington-Lee High School.
Volunteer Honora Dent stands at the door of Rocklands handing out tickets to customers. She explains that any customer who mentions AASP and hands Rocklands their ticket when they order will earn 15 percent of their bill for AASP. Linda Sholl, chair of the Langston-Brown Senior Center AASP board, said this fundraiser was her idea. She said each of the six senior centers handles activities for their own center and parcels out funds depending on what that center might need. For instance, Arlington Mill may need money to fund a luncheon.
Customers enter and join the long line extending to the front of the restaurant. The Rocklands counter is crammed with plastic bottles of barbecue sauce, red packages of toothpicks, hand wipes and a large bowl of unshelled peanuts to crack open while you wait. A fish bowl full of raffle tickets awaits a drawing for a lucky customer to win two tickets to the July 27 Nationals game against the Colorado Rockies.
Doug Frost, who is the chair of the AASP, says the organization was started in 2009. They have raised more than $75,000 in support of programs aimed at improving the lives of Arlington County seniors, including pickleball mixers, an annual New Year's Eve party, and a BBQ BASH featuring food, games and live music for more than 300 Arlington seniors. Frost said planning for this fundraiser really energized the volunteers.
AASP is a nonprofit, community-based organization that supplements county endeavors and makes more programs available for 55-plus population Arlington seniors. They partner with each Senior Center Advisory Committee to assist and promote their various social and fundraising activities.