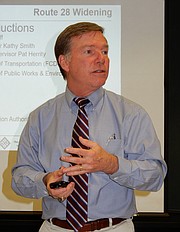 When it's rush hour on Route 28 in Centreville, no one is going anywhere quickly. But a multimillion-dollar widening project will eventually improve things considerably. It won't become a reality until 2023, but plans are well underway.
Route 28 will be widened from four lanes to six, for about 2.3 miles, from the bridge over Bull Run to the interchange at Route 29 at the Prince William/Fairfax County line. Besides adding more through lanes to Route 28, the project will provide additional lanes on side streets to improve traffic flow.
It will also improve intersection operations, upgrade existing traffic signals and improve bicycle and pedestrian crossings. In addition, new, 10-foot-wide, shared-use paths will be created on both sides of Route 28.
LOCAL RESIDENTS learned more about the proposed plans during a recent, public-information meeting at Centre Ridge Elementary. More than 100 people attended, including Supervisor Kathy Smith (D-Sully), Fairfax County Planning Commissioner Jim Hart, West Fairfax County Citizens Assn. (WFCCA) Land-Use Committee Chairman John Litzenberger, Del. Danica Roem (D-13), and county transportation staff.
"This Fairfax County project is being done in cooperation with VDOT and the NVTA [Northern Virginia Transportation Authority]," said Todd Minnix, chief of the Transportation Design Division of Fairfax County Department of Transportation (FCDOT). "And we're doing design-build to speed up the process."
Design-Build provides for more-rapid progress by combining and overlapping the design, right-of-way, utility and construction phases. As a result, many of the tasks are done concurrently, rather than one after another.
"We've got 30-percent [design] plans, subject to change," said Minnix. "We've submitted them to VDOT, and they'll be revised, based on your comments and our and VDOT's reviews. VDOT needs to approve them before construction."
The roadway is being built to handle estimated traffic levels in 2040, but there are several challenges. There are streams and wetlands in the project area, and the elevation difference between northbound and southbound Route 28 will require median retaining walls. In addition, the southbound road doesn't meet current, sight-distance criteria. And, said Minnix, "There are a lot of utilities, especially on the southbound side."
Lack of funding has also forced the project to change significantly from what was proposed last summer. "We initially recommended a 6-7-8-lane hybrid," said Minnix. "But we don't have enough money to do that, so we can only go to six lanes at this time."
However, he added, "We're designing for eight lanes in the future, with as little disruption to people and the environment as possible. And we based our noise analysis and environmental impacts on eight lanes in 2040."
UNDER THE PLAN, improvements would be made at all signalized intersections by adding turn lanes and/or one or more additional lanes on side streets. Doing so would eliminate split-phase, signal operations and improve overall intersection operations. Being considered are:
Dual left-turn lanes on northbound Route 28 at New Braddock (which may not be needed/required);

Dual left-turn lanes on northbound Route 28 at Machen Road;

Triple left turns from westbound New Braddock to southbound Route 28;

Adding one lane on both westbound and eastbound Compton Road, eastbound Old Mill Road and westbound Old Centreville Road (at the north end of the project).
"We're also removing two, median crossovers," said Minnix. "One is at Darkwood Drive and the other is south of Compton Road."
There'll be some right-of-way impacts, as well. Minnix said 36 parcels will be affected by the road, itself, and another six will be potentially impacted by the stormwater management.
Initially, four design options were proposed for the intersection of Ordway, Compton and Old Centreville roads. But again, money may affect the final decision. "Option One seems like all we can afford," said Minnix. "But we'd like to propose Option Four."
Option One would keep Ordway's alignment the same, but just add the new lanes. Option Four would realign Old Centreville Road to a "T" intersection with Ordway, with a traffic signal.
Since this project contains federal money, a proposal for noise mitigation is required for neighborhoods where the projected noise levels will exceed established criteria. But the residents must say, in writing, that they want noise walls.
"Right now, 26 buildings meet the excessive-noise criteria for sound walls, and this number would increase to 68 by 2040," said Minnix. "The face of the barrier can't be more than 1,600 square feet per home. At least 51 percent of the homes in a community have to vote for a noise barrier, and both the home renters and owners get to vote."
The whole road project is estimated to cost $76,625,000 and, as of now, it's completely funded from the following sources:
• NVTA Regional Funds - $26 million;
• State Revenue Sharing Funds - $10 million;
• State SmartScale Funds - $23,422,583;
• Federal Demonstration Funds - $ 9,407,418; and
• Local Funds -$ 7,794,999.
"We anticipate acquiring the land in fall or winter of next year," said Minnix. "We want the road constructed and open to traffic by spring 2023. But we'd really like it open by December 2022. We hope to have a contract signed with the design-builder by January-February of next year. And at 60-percent [plans], the design-builder will hold a public hearing before construction starts, to explain all the details to [the community]."
He also noted that work could begin on the northbound lanes first because most of the land-acquisition is on the south side. "The land-acquisition process will begin after the 60-percent plans are done," added Minnix. "And the land acquisition will be done for a road with all eight lanes, so it won't have to be done again later. The county will cut the check [for it], not the design-builder."
When the project does start, he said, "More than likely, there'll be nightwork – especially between 10 p.m. and 5 a.m. But there'll be no lane closures during peak-traffic hours."
On May 24, five firms submitted statements of qualifications to be the design-builder. FCDOT is now evaluating these proposals and expects to narrow down the list to three finalists by July 14.