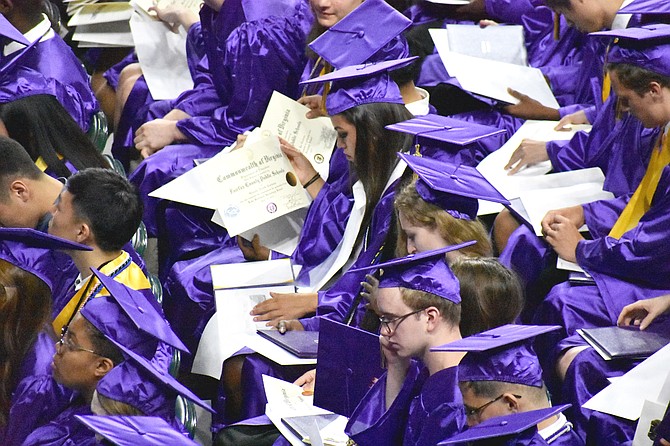 Much of the time at the Lake Braddock Secondary School graduation, held on Monday, June 10 in the EagleBank Arena, was spent in recognition and celebration of the impressive class of 2019.
Of the more than 680 students graduating, "73 percent of the class has earned a 3.0 grade point average or higher," said Principal Daniel Smith during his address. He also commended the 157 honor graduates for earning above a 4.0 GPA.
Associate Principal Laura Waterman followed Smith and recognized the acts of service the graduates had performed in the community. She thanked the students for contributing more than 25,000 hours of volunteer work during their high school careers. She also acknowledged the 11 students joining the military upon graduating.
Director of Student Services Alka Howard then praised the outstanding scholars of the class. She congratulated the students who received the designation of AP Scholar after completing three or more Advanced Placement exams with a score of 3 or higher. The 232 students eligible for the Virginia Early College Scholars Program were also recognized for completing an Advanced Studies diploma with a "B" average or higher and taking 5 or more AP classes, or the equivalent of 15 transfereable college credits.
The keynote speech, however, reminded graduates that success in the future might be harder to attain. Adam Tuss, transportation reporter and anchor for NBC Washington, gave advice to the students by formatting his speech as a letter to his 18-year-old self. "Hey, Adam. It's Adam," he began. "Life is about to happen. Life in all its best, most glorious, and sometimes most challenging forms is waiting on the other side of this stage today."
Tuss warned that life after graduation "will not always be easy," he said. "And that, perhaps, is the single most important lesson in life that so many of us grapple with."
He then shifted his focus to resilience. Though life will be difficult, he told the students that more important than the challenges themselves are the responses to them. He recalled living in New York City trying to begin his journalism career. "While you believe in yourself, Adam, these bosses are going to tell you that you're not ready," he said to his past self. "You're going to doubt yourself. You will get knocked down."
But, Tuss, of course, later became a successful reporter in Washington, D.C. He described achieving his goals despite criticism and obstacles as the "sweetest moment."
"You learn from mistakes. You don't have to be perfect. Life is constantly teaching you that. You should have moments where you fail," he continued. "But it matters how you respond from that failure. You get to control what happens in those moments."
He then turned his attention to the students: "There are going to be times, graduates, when life knocks you down," he said. "But you can pass all of those tests, every single one of them, if you don't stay down. And you simply get up."