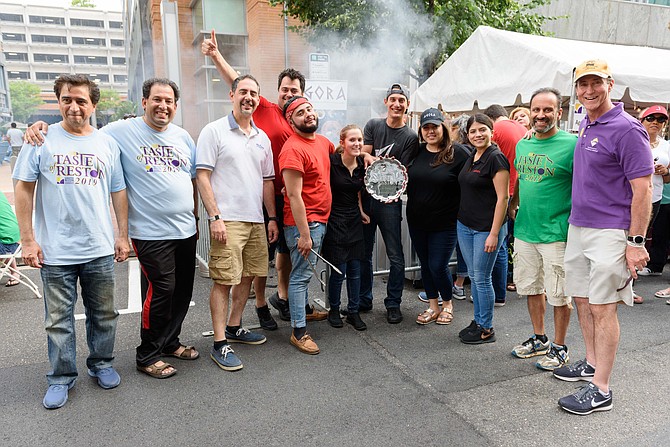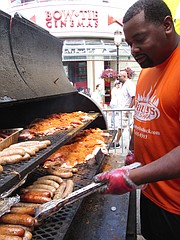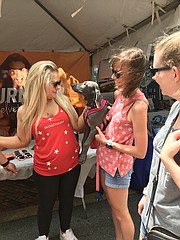 Taste of Reston, produced by Greater Reston Chamber of Commerce, drew thousands of patrons to Reston Town Center, Friday, June 14 and Saturday, June 15. The free and open to the public two-day event offered four stages of entertainment, Family Fun Zone!, Wine 'n Dine, Business Exhibits and more. The chamber has produced Taste of Reston since 1990 and "it is the favorite summer food and music event of the Reston community."
While attendees purchased tickets needed for on-site food, beer and wine, the Wine 'n Dine area allowed festival goers the ability to shop with cash and buy food items designed to enjoy at home. Garage parking for the event was free.
"We view this as a community give-back and an opportunity for businesses to showcase their culinary cuisines and participate in the Business Exhibits," said Mark S. Ingrao, President & CEO of the Greater Reston Chamber of Commerce.
On hand to judge for herself the best of the best cuisines was Jocelyn Jablin of Reston who sampled baklava from Agora, a D.C.-based Mediterranean Mezze Restaurant set to open this month in Tysons. "I've been to Taste of Reston before so I knew it would be great, alive with fun and food," Jablin said.
A few tents away, smoke drifted upward. Paul Gill, of Pauly's Rib Shack, prepped his "amazing smoked ribs."
"We're a mobile and catering company," Gil said. "I received an invite from the Chamber to attend this year's Taste of Reston, and I'm loving it."
Nearby Daniella Miller of Fairfax waited to taste the fare from Not Your Average Joes. "I wanted to try these. I come for the food; it's family-style dining," Miller said.
Alicia Liddle, a member of the Greater Reston Regional Chamber of Commerce, described the tremendous volunteer effort required to put on the Taste of Reston. "I'm so pleased about the number of people from the community here to volunteer. We anticipate more than 300 volunteers. It's awesome," Liddle said.
In the Taste of Reston Tasting Competition, held early Saturday afternoon, D.C-based Mediterranean restaurant Agora, which plans to open its Tysons branch in June, won First Place, Pauly's Rib Shack out of Ashburn won Second Place and Barcelona Wine Bar Reston earned Third Place.