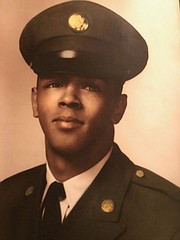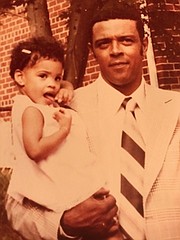 Back in 1956, 1957 and 1958, the newspaper headlines on Parker-Gray School listed an All Star team of basketball and football players that were winning in almost all their games. One of those players was Roland Scott, who was known by his nickname "Roro" or "Big Scott." Roland was a star player for Parker-Gray School during the years of 1956-1958.
In 1957, Parker-Gray played Armstrong School in Washington, D.C. The Parker-Gray athletic team was known as the "Bulldogs." It was reported that Roland ran 92-yards on Parker-Gray's second play from scrimmage in the first quarter. Midway in the same period he sneaked eight yards to the 50-yard line. When the Bulldogs recovered from an Armstrong fumble, Roro then sprinted 50-yards around the end for his touchdown. Long touchdowns were nothing new for Big Scott. He raced 104-yards on a pass interception return against Manassas. He made 13 touchdowns in 1957 and nine of the touchdowns were made for 50-yards or more.
Big Scott was also a hard-working student and he was well-liked by those who knew him. He was a 6-foot, 1-inch and 180 pounder in school and, on the football field, he alternated between quarterback and halfback. He also raced the 100-yard dash in 9.9 seconds and was a mainstay on Parker-Gray's Virginia Interscholastic Association State Champion basketball teams from 1955-1957. Along with all of his school successes, Big Scott worked two jobs. He worked at the hospital as an orderly and as an office custodian before and after school. He was the main financial provider for his mother and siblings after the death of his father, Bernard Scott in 1956.
After graduating from Parker-Gray, Roland made a life-time decision not to go to college but to work and support his mother and siblings. On April 17, 1959, Roland W. Scott married his former classmate, Betty L. Garrett. He was raised at 308 North Fayette St. and Betty lived at 308 Oronoco St. They started dating at Parker-Gray. After they got married, he was drafted into the military in 1963. When he completed his military career, he obtained a job as a bus driver.
Roland's greatest joys was when he and Betty had their only child, their daughter Randy Scott. He was an excellent student and a star athlete but his greatest achievement was raising his daughter. He spent all of his free time with his daughter teaching her how to play sports, play cards and helping her with her school work. He enrolled her in Saint Mary School in Alexandria. He would take her to school and pick her up every day. When he worked on his car, his daughter also was under the hood with him. He became a super dad, a male role model like no other. Big Scott embraced fatherhood like he embraced everything else in his life, 100 percent into being a good dad. His daughter, Randy, said, "My father was an example of what a father should be. I miss him greatly." Randy's oldest child, Garrett got to know his grandfather before he died in 2005 from cancer. Her daughter, Taylor, was born after Roland's death.
Today there are so many people who remember Big Scott, "Roro." The cherished memories of Big Scott years at Parker-Gray help his daughter to keep his legacy alive for her two children. We will remember Big Scott's football jersey number 25 and basketball jersey number 64 for Parker-Gray School Class of 1958.
Char McCargo Bah is a published author, freelance writer, independent historian, genealogist and a Living Legend of Alexandria. She maintains two blogs, http://www.theotheralexandria.com and http://www.findingthingsforu.com.