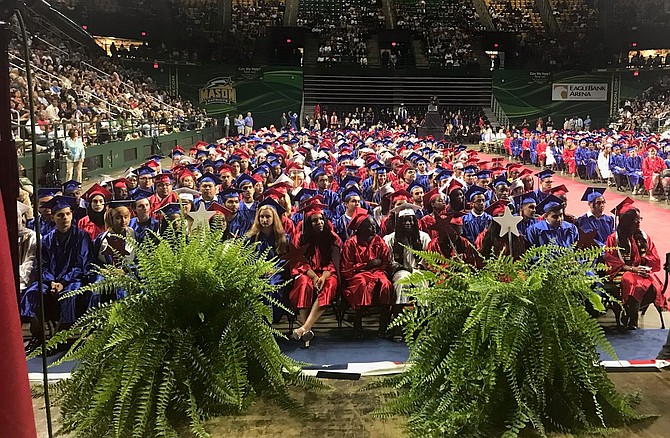 The Eagle Bank Arena on the campus of George Mason University was a sea of red, white and blue June 15 as T.C. Williams High School celebrated the graduation of the class of 2019.
ACPS Superintendent Gregory Hutchings Jr., himself a 1995 graduate of TC, delivered the keynote address.
"We all have moments when we ask ourselves, 'Am I good enough?'" Hutchings said. "This can be profoundly true for people of color, people who are not born in this country, young people who may feel excluded due to their socioeconomic background, gender identification, family circumstances or learning ability. You — our students — come from 114 different countries and speak 119 different languages. But our diversity is a formidable strength and is something to embrace. Our differences are our strengths."
Hutchings used the occasion to announce the launch of the Coming Home Campaign, an initiative that will guarantee ACPS jobs to TC graduates who major in education.
"At this moment I am launching the Coming Home Campaign, where Alexandria City Public Schools will be guaranteeing those of you TC graduates in the class of 2019 who pursue education as a major in college a job with ACPS after you graduate from college," Hutchings said.
Hutchings noted that guidelines of the agreement are being worked out and certain conditions would need to be met.
"You will need to work hard and have a 3.0 GPA and a Virginia teaching license to meet the necessary requirements to teach in our schools," he said. "But we are so sure that we have taught you so well that you, our Titans, our new graduates sitting here today, will be some of the best teachers around in the future that we are guaranteeing you a seat at our table. We are inviting you to come back to us and write the next chapter and be a part of our powerful story."
Hutchings continued: "Don't allow your past to determine your future. Don't allow your life circumstances to define who you will become. It is this Titan spirit that will transform you from students into leaders. So I wish you all the best in the brightest futures as you reach out to infinity and beyond."