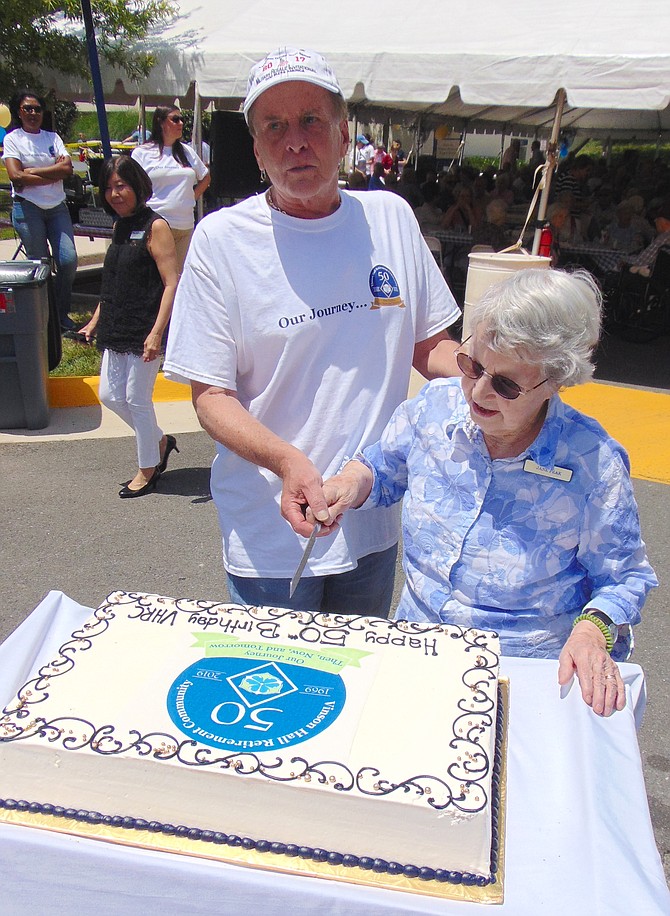 With perfect 80-degree weather, a 50th Anniversary celebration was held for the Vinson Hall Retirement Community on Kirby Road in McLean on Saturday, June 22, 2019. The facility opened on June 23, 1969, with 283 apartments; and today it has roughly 400 residents – retired military and civil servants – and about 250 people who are employed there. The block party under tents included a barbecue feast, cornhole games and entertainment, a deejay, and remarks from Dranesville District Supervisor John Foust. To top things off, there was a big 50th anniversary cake and logo cookies for party giveaways.
According to Libby Bush, CEO of Vinson Hall: "Vinson Hall Retirement Community is home to almost 400 people – 400 people who have a military tradition and heritage. We also have DOD, FBI, CIA, Secret Service, Foreign Service, and we are also opened to anyone in our Arleigh Burke Pavilion, the Sylvestery, and our higher levels of residency."
She continued: "We are so honored that all of those people call us home, and then we are grateful that almost 250 people call us their workplace. So, as a community, we come together every day to connect and to engage, and today is a beautiful sunny Saturday to do so celebrating our 50th anniversary."
Guest speaker Dranesville District Supervisor John Foust raved about how much Vinson Hall does for the community. "The good work that Vinson Hall does underscores its commitment not just to the residents but to the broader community. The work done by Vinson Hall has enhanced the quality of life for those living in this campus; equally important it has also enhanced the quality of life to the community here at large," he said.
He added: "From the beginning in 1969, as a home for Navy widows, Vinson Hall has expanded to include assisted living, nursing and short-term rehabilitation services at the Arleigh Burke, a memory support facility at Sylvestery and a new independent living facility. Congratulations. That is absolutely amazing."
"You provide housing but you also provide programs and you do things for the community that really make a difference. There's the Wounded Warrior Transitional Housing Program that provides housing for wounded, ill or injured veterans who have been discharged from inpatient treatment who are attempting to reintegrate into the community," he said.
"Thank you also for the work you do with local universities to provide clinical rotational opportunities and internships to young people who will one day make up the next generation of health care workers," he added.
One of the oldest inhabitants, Jane Peak, a 30-year resident originally from Denver, calls Vinson Hall wonderful: "I love it here. This is something special; we haven't done this before, but of course we haven't been 50 years old before. But this is loads of fun. It's a wonderful place to live."