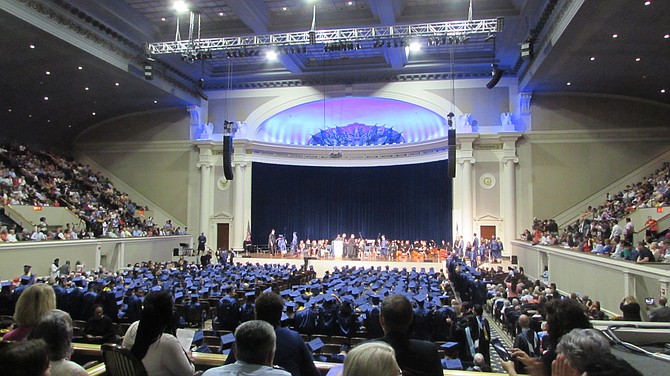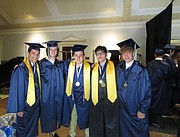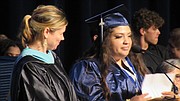 The largest senior class in the history of Washington-Lee High School graduated on Thursday, June 20, in a ceremony at Constitution Hall.
The graduates, dressed in flowing blue gowns, were seated on the floor of the historic venue, with hundreds of friends and family filling the stands. The hall fell silent as school's Junior Reserve Officers' Training Corps presented the colors and the Washington & Lee Madrigal Singers launched into a rendition of the Star Spangled Banner.
Nancy Van Dorn, member of the Arlington County School Board and one of the event's speakers, expressed her admiration for the 538 graduating students. "I have followed the class of 2019 closely for years, and know that you are all well-prepared for what lies ahead," said Van Dorn. She also wanted to remind the graduating students to be resilient. "Remember how resilient you are," Van Dorn said. "You have experienced so much together. I stand here humbled by your strength and hopeful for our future, because of you."
Dr. Gregg Robertson, principal of Washington-Lee, had similar remarks for the graduates. "As I look at you in your caps and gowns, you really do look like the big dogs," Robertson said.
The class of 2019 is also the last to graduate before the name of the school changes. In January, the School Board voted unanimously to change the school's name to Washington-Liberty High School. The name will go into effect at the start of the 2019-2020 school year. The name Washington-Liberty was, "selected by the [School] Board given the name's alignment with [Arlington Public Schools] core values," according to a press release.
After the ceremony finished, the graduates spilled out onto the steps of Constitution Hall, many used their newly-acquired diplomas to shield their eyes from the summer sun. The gathering took on a more informal air as students posed for pictures and embraced family members. "It's really just a culmination of four years of hard work," said Kieran Donaldson, one of the graduates.