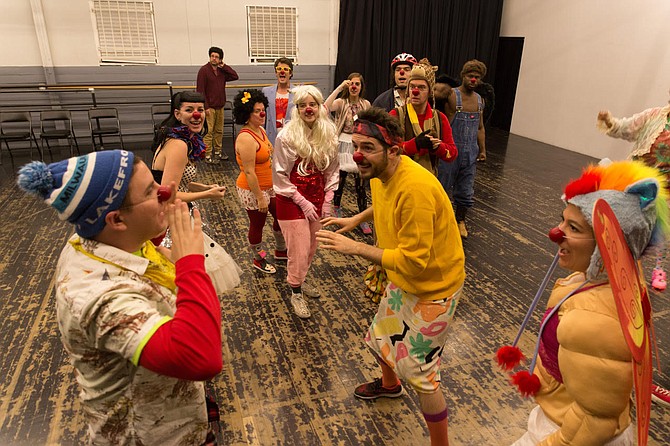 With all the long work weeks, traffic and politics here in Northern Virginia, finding something fun to escape to might be challenging. Mike Funt, a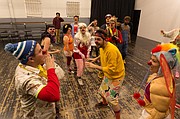 professional clown, is offering clown classes at the Workhouse Art Center in Lorton, providing an option for the stressed-out type.
"The clown is a great fun tool," Funt said. "Tapping into your playful self you were as a kid."
Funt is offering two sets of clown introduction courses this summer to get people around here to let go and find the inner self many may not even know existed. "Finding that sense of play is helpful for everybody," he said.
Funt has been with the Clown School in Los Angeles for several years, studying the art of clowning on many levels.
THE OPPORTUNITY arose when his wife got a job offer here in the Metro area, and now he's establishing Clown School East and seeing how it will fit in with the government-laden work force in Northern Virginia. Clown classes even address life in the cubicle world. It is possible that after taking a class, "you'll be able to connect with the person sitting across from you," he said.
That goes for the business executive as well. "In clown, we focus on leaning into failure, not being afraid of failure," he said.
When and Where
Workhouse Arts Center, July 20-21 and again Aug. 24-25. Visit www.workhousearts... or call 703-584-2900
Workhouse Arts Center, 9518 Workhouse Way, Lorton
The Workhouse Arts Center offers enough variety that the Clown School will fit in just right. They've worked with improv classes in the past and looked at the Clown School curriculum as similar.
"When Mr Funt proposed clowning classes it felt like good timing to give this a try," said Joseph Wallen, Director Performing Arts at the Workhouse Arts Foundation, Inc.
"We're hoping that this becomes a popular offering and that we will be able to expand the class schedule to include more styles of clowning, as well as including some basic circus skills," he said. "Mike Funt helped establish a similar school on the West Coast, and we look to his expertise to grow the program at the Workhouse."
The Clown School has a motto: "Break all the rules, be a clown."
Funt has traveled all over the world with clowning and has found a variety of genres that piqued his interest. He likes blending styles that are "not necessarily the American clown," he said. All clowns across cultures, across time, and across geography share a few things in common: physical comedy, foolishness. "What I find most incredible is clowns' ability to play, reveal, and connect," he said.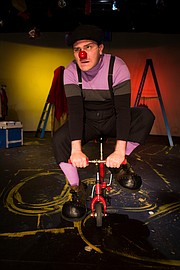 THE CLOWN SCHOOL focuses on classes to find the playful, childlike self, revealing the parts that are foolish or ridiculous. "I always say your clown is the part of you that your friends make fun of you behind your back," Funt said. Connecting with the audience in the present moment is important too. These skills are valuable to anyone, not just performers, and according to Funt, "people who take the classes always talk about how they have helped in their daily lives, not just in performance."
Part of Funt's past clown work included joining a group of "Clowns without Borders," and travelling to Puerto Rico after Hurricane Maria to bring some smiles in an otherwise bad situation.
One kid in Puerto Rico had no roof on his house and stared up at the stars at night, but while the clowns performed, he was enjoying it and not thinking about his situation. The audience "forget what troubles they've gone through," he said.
Other times, he goes in hospitals and works with sick children. "I always love going in the hospitals and connecting with kids," he said.
Clown School at the Workhouse Arts Center, July 20-21 and again Aug. 24-25. Visit www.workhousearts.org or call 703-584-2900

Workhouse Arts Center, 9518 Workhouse Way, Lorton