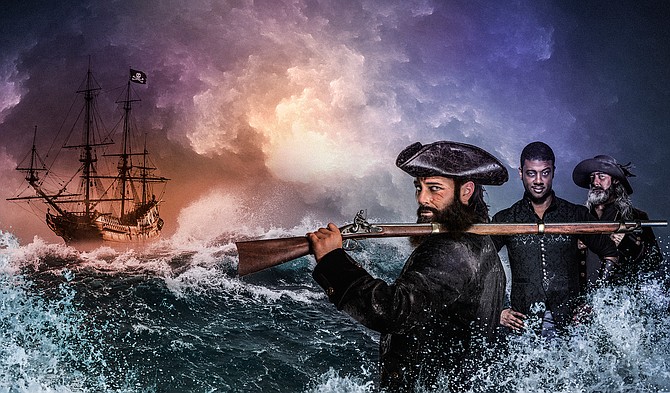 Get ready to be entertained. Signature Theatre is presenting the world premiere of the rowdy high-seas musical, "Blackbeard," from now through July 14. After learning he's a wanted man by the British army, Blackbeard and his merry crew of maritime marauders embark on a journey across the globe to raise an undead pirate army from the depths of the sea.
Maria Egler plays the role of the pirate named Meg, who is one of the crew members on the Queen Anne's Revenge, and La Mer who is the physical embodiment of the ocean. "As you know, all sailors and pirates are 'married to the sea' so be on the lookout for our trials and tribulations," she said.
She said the challenge when working on a new piece is being able to incorporate changes to the script and music on a daily basis. "Sometimes the new material coming at you can make your head spin, but in the end it all makes the piece so much stronger which is well worth it," she said.
As far as audience takeaways, she added: "I hope that audiences will have as good of a time watching this show as we have performing it. And I also hope that the underlying message of treasuring the journey is a big takeaway."
Rory Boyd plays the role of Roger, a newcomer to the ship. "In many ways, he's the eyes and ears of the audience as he learns about life on a pirate ship. To get by, he has to make good use of his quick wit, open mind, sense of adventure and kind heart," he said.
He added: "Working on a new musical is in itself a unique experience. It's been wonderful having the writers and the creative team in the room, and collaborating with them has been an unforgettable experience for me. For any actor, I think the opportunity to work on a new piece and originate a role is not one that comes by often; so, when it does you go for it," he said.
He continued: "This musical is like a rollercoaster ride. From the very beginning right through to the end (no intermission) the audience is with us on the ship and transported across the world. I hope that cathartic feeling of having just come off a rollercoaster is similar to what audiences might feel; that sense of 'wow, how was all that possible?!'"
"Of course, we're using the magic of theatre to make it all happen, and I hope audiences will be reminded of it by seeing our show. In addition, our show has as much heart as it does adventure, so if our audiences leave both moved and enthralled by what they've seen, then we'll have done our job," he added.
Signature Theatre is presenting "Blackbeard," from now through July 14. Show times are Tuesdays through Sundays at varying times (7 p.m.; 7:30 p.m.; and 8 p.m.); Saturday at 8 p.m.; and Sunday at 7 p.m., with matinees at 2 p.m. Tickets are $40-$98. Specialty Nights are Discussion Nights on June 26 and July 9, 2019; Pride Night on June 28, 2019; and Open Captioning July 14, 2019 at 2 p.m. The venue is located at 4200 Campbell Ave., Arlington. Call the Box Office at 703-820-9771.