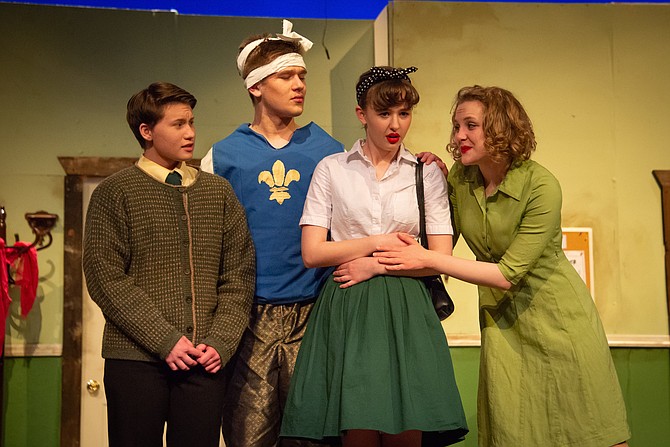 Lake Braddock Secondary School should be over the moon after their exciting and hilarious performance of "Moon Over Buffalo."
"Moon Over Buffalo" is the comedic Ken Ludwig play set in Buffalo, N. Y. that follows travelling actors George and Charlotte Hay through a series of entertaining mishaps and miscommunication while trying to impress a Hollywood director, all while dealing with their own marital and familial issues. The first production of "Moon Over Buffalo" opened on Broadway at the Martin Beck Theatre on Oct. 1, 1995, directed by Tom Moore. The original George and Charlotte, Philip Bosco and Carol Burnett were each nominated for Tony Award Best Actor and Actress in a Play.
The show is led by the lively Erik Wells who portrayed egotistical actor George Hay, and displayed his wide range and commitment to the role by playing both completely drunk, as well as sober and arrogant. Wells' cavalier and vein character, accompanied with hilarious physicality had the audience roaring with every line. Wells was also extremely compatible with his witty co-star Camille Neumann, who portrayed the other half of the rocky marriage, Charlotte Hay. The two worked well together and played the on and off relationship very convincingly. Neumann played the classy, confident actress through effective facial expressions and comedic line delivery, along with impressive body language to convey her character's thoughts.
Adin Weingast, as Paul Singer, consistently produced raucous laughter from the audience with every perfectly timed face, movement, and line as he embodied his character without wavering. Weingast was consistently show-stoppingly hilarious in his every scene with every other character, especially George, where as a couple, their physical comedy stole the show.
Shyanne Hall, who played Rosalind, the daughter of the actors, displayed comedic delivery with her lines, and played off her fellow actors very well, particularly in the beginning of the third act where she must delay the play, then is accompanied by the rest of the cast for their show-within-a-show to fall apart. She particularly played well with Weingast as Paul and Michael Totten as Howard, her former and current boyfriends. The timid Totten displayed an awkward and nervous Howard, who could easily snap into his confident weatherman persona, always left the audience howling.
The technical team showed impressive talent with effective makeup and wigs, as well as 1950s period costumes. The lighting was simple, yet appropriate and a lit cyclorama provided a practical background for the well-constructed and accurate set. The sound cues were timed perfectly, including a gunshot followed by a falling vase that was executed flawlessly. The minimal scene changes and use of pre-recorded lines to cover the change kept the show flowing smoothly.
Overall, the Lake Braddock's production of "Moon Over Buffalo" was hilarious, satisfying, and impressively executed.