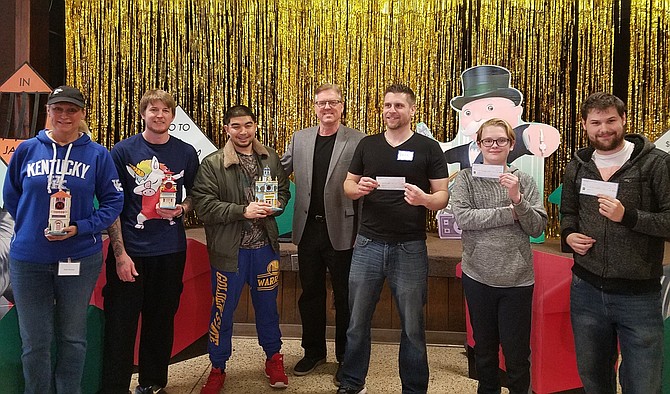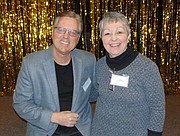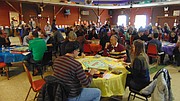 About 60 players participated in the 12th annual Ron K's Monopoly Tournament at the Woodbridge Moose Family Center #583 in Lorton on Saturday, March 2, 2019, which raised about $7,000 for charity. Players competed in three rounds for the top prize of $500 in real money. The annual event was sponsored by the Ron Kowalski Real Estate Group through Keller Williams Capital Properties in Springfield. In 2003, when they started the tournament, they had 30 players and raised under $700. After 12 years, they had a hundred-fold increase, raising about $70,000 for charities to date.
WINNING FIRST PLACE was Bobby Driscoll, who won $500; second place went to Alex Kowalski, who won $250; third place went to David Adkins, who won $100; fourth place went to Melson Varsovia; fifth place went to Carl Klein; and sixth place went to Robin Nicholas.
According to Organizer Ron Kowalski: "Interestingly, the final round, sponsored by CPMG Foundation (Capital Properties/ Menkiti Group), was different than any other we've ever had. It was an epic battle of patience and wits with no monopolies, no houses or hotels, no players going bankrupt, and no property trades among players."
He continued: "Usually, the outcome is determined by aggressive play, smart trades, and a little luck. This year, the game paid out differently in a defensive struggle for survival. But in the end, a winner was crowned and a good time was had by all."
Kowalski said the goal was to raise money for the Lorton Community Action Center (LCAC), the local charity in Southern Fairfax County. "We always try to increase this tournament year after year and get more players and it seems to have gotten bigger over the years," he said. "People still want this every year; they ask me to keep doing this because it's a fun thing to do."
Kowalski, who once worked for Hasbro Toys in its promotions department, started in real estate in the area in 2003. He said: "But what inspired me was I went to one of those business trainings and I got a business coach when I started my business who said you should do something that your background promotes, and I heard about the monopoly tournaments and I just tried it."
According to its charity recipient Linda Patterson, Lorton Community Action Center Executive Director: "This is our sixth year of being the beneficiary of tournament funds, which helps to pay rent and utilities for local families. For example, this week we had a family that the dad was working but the mom was hospitalized. And so, she lost her work hours and they were behind on their rent. So LCAC used our funds to pay the rent to keep that family housed – a mom, a dad, and two teenage kids. That's one of the purposes of the Monopoly Tournament funds. It's to make sure that our neighbors are in safe, stable housing."
She said that Lorton Community Action Center's goal has two purposes. "One is to provide basic needs assistance to families in the Lorton/Newington/Fort Belvoir areas in the forms of food, emergency rent and utilities, seasonal outreach programs, clothing, furniture – those kinds of things. And then educational opportunities to better family's lives through ESL classes, adult and kids' nutrition education, computer classes, resume writing, budgeting. We have a free legal clinic. All of these are avenues through which we can take a family from a point of struggle, crisis, and hopefully move them to better opportunities, and a better life where they are stable and secure," she said.
KOWALSKI added: "I've stuck with [Lorton Community Action Center] because it seems to be a really good fit for us in the area; but we've also raised money for the Workhouse Arts Center in Lorton and also Habitat for Humanity for Northern Virginia."
During the tournament, South County Church in Lorton catered the breakfast and Glory Days Grill of Lorton provided the lunch.