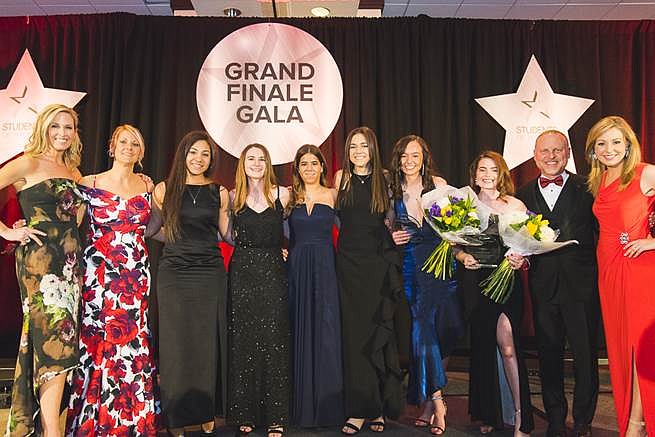 Through The Leukemia & Lymphoma Society's (LLS) National Capital Area Chapter's sixth annual Students of the Year campaign, more than 326 high school students raised $2,004,056 for Leukemia & Lymphoma Society's cutting-edge cancer research and patient services. Lilly Evans and Gabrielle Russo of Team Fire Hearts, juniors at The Madeira School in McLean, earned the "Students of the Year" title during the Grand Finale Gala at the JW Marriott in Washington, D.C. on Saturday, March 2. These young philanthropists raised funds to support LLS's goal to find cures for blood cancers and ensure that patients have access to lifesaving treatments.
Students of the Year is a seven-week philanthropic leadership development program during which students foster professional skills such as entrepreneurship, marketing, and project management while raising funds for LLS, the world's largest nonprofit fighting blood cancer. The title Students of the Year is awarded to the candidate or co-candidates in each community who raise the most funds during the competition.
"We're honored to be named the National Capital Area chapter's local Students of the Year." said Russo. "We raised this money in honor of my dad who is a leukemia survivor and we wouldn't be involved in this great organization without him."
Evans said, "The Russo family has supported me many times and to do this for Mr. Russo, it means the world to me. Thank you to our teammates and the LLS staff."
Evans and Russo ran a fundraising campaign which involved a number of proceeds nights, the most successful one hosted by the BBQ Joint [Easton, Maryland], attended by Md. Governor Larry Hogan, also a blood cancer survivor.
They also organized a dinner party catered by Chef Andrew Evans, Lilly's father. Coordination and teamwork played a big role in the candidates' success, having signed on to the campaign in the Spring of 2018 and building a team of five members, all whom utilized their networks and relentlessly reached out, assuring they left no money on the table for cancer cures.
"Congratulations to Lilly and Gabrielle and all our candidates, supporters and volunteers who helped to make Students of the Year a huge success," said Beth Gorman, LLS's National Capital Area Executive Director. "For these incredible individuals, it's not just about winning a title; it's about the impact they are making in their communities and the generations ahead of them. LLS has led the way in changing the way we treat cancer and the funds these students raise helps LLS continue developing new treatments, especially for childhood leukemia and advances in precision medicine and immunotherapy." Gorman concluded, "We are incredibly thankful for all of our Students of the Year candidates and team members. They truly are making a difference in the lives of cancer patients now and cancer patients in the future."
To learn more about LLS's Students of the Year program and how it might work for you or someone you know, visit:https://www.studentsoftheyear.org/students-year-washington-dc.