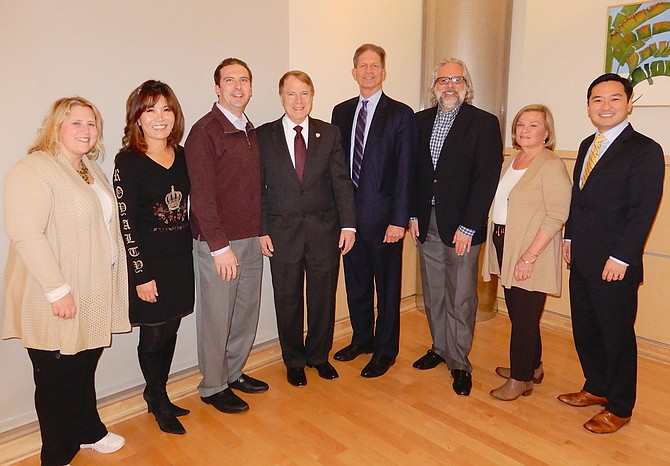 At Rob Stalzer's welcoming reception in January as City of Fairfax's new City Manager, Mayor David Meyer said, "Our staff are in good hands with Rob's leadership. He is the right person, in the right place, at the right time."
And since Stalzer spent the past 18 years as Fairfax County's deputy county executive, it's easy to see why Meyer feels that way. He also said Stalzer has the "professional credentials, depth and synthesis of experience, prudent judgment, ability to conceptualize, and imagination" to help lead the City forward.
Stalzer replaced former city manager, Bob Sisson, who retired after 27 years. And last week, Stalzer spoke with The Connection about his career to date and his feelings about the City of Fairfax.
BORN AND RAISED in Wilmington, Del., he intended to become a psychologist. But at Clarke University in Massachusetts, he instead majored in geography, which he liked better. He used his degree to go into urban planning and, in 1979, obtained a masters in regional city planning from the University of Oklahoma.
At the time, he lived in Greensboro, N.C., and, that summer, he and a friend rode bikes across the U.S., going 3,300 miles in 40 days.
"I dropped off resumés, like breadcrumbs, everywhere we went," said Stalzer. And he struck pay dirt in Virginia's Shenandoah Valley, where Buena Vista hired him as its first city planner and zoning administrator.
He was there 14 months and then went to a small, family-owned, urban planning/consulting firm, Balzer and Associates in Roanoke. He did Comprehensive Plan updates, applied for Community Development Block Grants and then managed the programs those grants funded, including housing and neighborhood rehabilitations.
In 1983, Stalzer became planning director of Roanoke County for 5-1/2 years, before leaving in June 1988 to become Herndon's assistant town manager. But after eight weeks, the town manager was let go, and he took over the reins until June 2000.
After that came his 18 years with Fairfax County. In addition, he's taught 16 graduate-level semesters of urban planning and economic development, plus local-government issues, at GMU and Virginia Tech.
So it's no wonder he's so well-qualified to be Fairfax's city manager.
"City managers have to be comfortable with planning and zoning, so that's been a great background for me," said Stalzer. "Planning teaches someone to think externally into the community, vs. internally into the organization."
He said Fairfax elected officials and people in the community care about what's going on in the street – not necessarily in City Hall. And what's really important, said Stalzer, is "How are we building community and improving people's lives? That's been my focus, my entire life. That energizes me, and I find it a lot of fun. When you call 911, local people respond. We do things state and federal governments don't do."
So why leave the county for the city?
"I had a really good career in Fairfax County, was involved in memorable projects and I enjoyed it," he said. "But there's a difference in being the assistant and being the leader. And I felt like I had more to offer and needed to go somewhere else to do it."
Pleased to be in Fairfax, Stalzer said, "I feel grateful and fortunate that the City picked me. This is a desirable location and it worked out well. When I was in Herndon, there was a sense of intimacy between the people who lived, worked and owned businesses in the town, and the town government. And the welcome I received in the City was immediate."
He said his calendar is packed, morning to night, because there's so much going on here. And, he added, "I'm happy to be a part of it. Since the City and county partnered on some things, I already knew some of the City staff. And the senior leadership seem to have great chemistry and genuinely know and like each other, so I'm glad the mayor and City Council picked me."
Stalzer began the job Jan. 7, but he found out it was his in late October. "I knew the City had some pretty qualified candidates," he said. "So I was pretty doggone happy."
He and wife Cathy, an elementary-school reading specialist, have two sons, both attending GMU. Tim, almost 25, is a geography major, and Matt, 23, is majoring in computer science. Rounding out the family are dogs Quincy and Chaz, plus cat Stripes, all rescues, and they plan to move to the City soon.
Regarding Fairfax's future, Stalzer said, "Economic development, in various forms, has got to be – if not the number-one priority – at the top of the list. We need to continue developing the tax base in terms of the Comprehensive Plan and the parameters the Council and residents have set: To provide the kind and level of services the people want."

But it's not one-size-fits-all. Stalzer said economic development will look different in different parts of the City. "Because the City is small and so compact, everything is redevelopment," he explained. "What we do downtown will be in keeping with the historic core; but what happens in Northfax will certainly look different."
He said it's important for City government to continue being "customer-centric," focused on building community in partnership with the people who live and work here and "just want to be here. To be economically successful, you have to create and sustain those relationships. People need to be happy living in their community and feel safe here."
So Stalzer has been meeting with individuals, community leaders and groups. And he's been identifying and more narrowly defining the strategic directions economic development and redevelopment can take. "We also need to focus on our City government building partnerships with GMU, our businesses, chamber of commerce and the City schools," he added. "I think there are a lot of opportunities for us to do things together that we might not be able to do individually."
His philosophy of leadership is based on building trust and creating a "collaborative, communicative culture." He also believes in sharing information openly and widely, as well as in joint ventures involving the City and other regional governments and nonprofits. And, said Stalzer, "Preparing the next generation to be local government leaders and service providers is a huge part of what we do."
CALLING FAIRFAX CLOSE-KNIT, he's been impressed with "the positives I've heard from everyone who lives and works here. They're genuinely glad to be part of this community." He says the toughest part of his job will be "making decisions around resource allocations – we're not going to be able to do everything everybody wants."
His greatest satisfaction, said Stalzer, is "Whenever I walk out the door, knowing I've been part of developing people in the organization professionally who'll be able to step up into roles of greater responsibility. Most people who do what I do want to be part of building the community – for example, a park, transportation improvement or other amenity contributing to the quality of life. My mantra is 'Build community and improve people's lives' – that's what I'm all about."