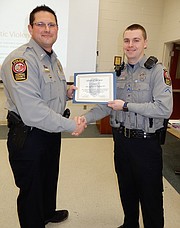 PFC Kenner D. Fortner III has been chosen the Sully District Police Station's 2018 Officer of the Year. He was honored at the Feb. 13 meeting of the station's Citizens Advisory Committee.
In nominating him for this award, Lt. Nicholas DiPippa wrote that, all throughout last year, Fortner "has exemplified what it is to be a patrol officer and leader among his peers. He goes above any supervisor's expectation of work ethic and performance, while ensuring the welfare of the community he serves each day. He maintains a positive attitude and is willing to perform above what it takes to make a difference."
Although Fortner has only been in the Police Department for four years, he's already made an impact. "He is a constant producer and is in the top half – of not only his squad, but the station – in DWI arrests, criminal arrest, and citations," wrote DiPippa. "He pushes himself and challenges his coworkers daily with his work ethic and his proactive attitude."
"His desire for knowledge has him continually educating himself on case law, code sections and law-enforcement topics," continued DiPippa. "Fortner has become an informal leader among his squad, and younger officers seek his guidance on calls routinely. His supervisors rely on him for his knowledge, calm manner and good decision-making skills. It is because of these attributes that Fortner was selected to become a Field Training Instructor."
DiPippa stressed that Fortner has shown what an officer can accomplish by going above and beyond his normal duties. In fact, he noted that Fortner has been nominated for two, lifesaving awards for saving the lives of two citizens, on separate calls.
In the first incident, the officer responded to a call about a male who'd shot himself in the leg. Fortner arrived before Fire Department personnel and quickly assessed the man's injuries. According to DiPippa, "He applied a tourniquet without hesitation and continued to calm the male to prevent him from going into shock."
In the second event, Fortner responded for a male who was unconscious and not breathing. Again, he arrived before the Fire Department and "noticed the male did not have a pulse," wrote DiPippa. "Fortner quickly began chest compressions that continued for over three minutes before rescue personnel arrived, saving the male's life."
Basically, said DiPippa, "Fortner takes in the totality of circumstances on calls and then decides the appropriate action. On one occasion, he stopped behind a vehicle that was stopped in the middle of traffic on Lee Highway. Fortner noticed the male was disoriented and could not open his window. The male at one point was so disoriented, he attempted to put his vehicle in drive. Fortner, along with other officers, broke a window of the vehicle and rescued the male from the car."
"It was determined that the male was high on narcotics and tried to fight officers," continued DiPippa. "The male was detained without injury. Even though Fortner had criminal charges to arrest the male, his first thought was for the safety of the male driver. Fortner had the male transported to the hospital, where it was determined he had overdosed on methamphetamines. Fortner did charge the male with his crimes, but made sure he also received medical treatment to help him."
In addition, said DiPippa, "Fortner has shown a passion and affinity for crime-scene techniques." Fortner has a background in crime-scene knowledge, but continues to add to his repertoire by attending crime-scene classes with the Fairfax County Police Department.
Furthermore, Fortner has been given several accolades from detectives and crime- scene personnel on his documentation of scenes, report writing, and processing skills. "If there is a priority call that could use his crime-scene skills, Fortner has already started to respond to assist officers," wrote DiPippa.
A call exemplifying this attribute happened when a citizen reported a vehicle had been broken into in the neighborhood. Fortner responded to assist the primary officer by processing the vehicle in hopes of obtaining suspect fingerprints. He located traces of blood in the vehicle and correctly collected them, according to the skills he acquired in his crime-scene classes.
"Fortner further assisted the primary officer when suspects were later developed," wrote DiPippa. "He then wrote a search warrant for the suspect's DNA and could tie them to the vehicle that was broken into, assisting in securing a conviction."
But that's not all. "Another outstanding case conducted by Fortner was when he spoke with a citizen who had his wallet stolen," wrote DiPippa. "Fortner wrote a very detailed and thorough report that received praised from Sully detectives. He did not stop at just taking a simple report. but contacted the victim on a follow-up and realized that the victim's credit cards had been used."
Fortner received copies of the receipts to show dates and times of the fraudulent transactions. He then received still images of the suspect at the locations where these transactions were made.
"Fortner also obtained arrest warrants for the suspect for fraudulent transactions over $1,150," wrote DiPippa. "He arrested the male, interviewed him and obtained a confession from the suspect for all the fraudulent transactions, as well as for the original larceny of the wallet, forming a rock-solid case for court prosecution."
DiPippa ended his award recommendation by saying, "In recognition of his hard work and devotion to duty during 2018, PFC Kenner Fortner has been named Officer of the Year for the Sully District Station."