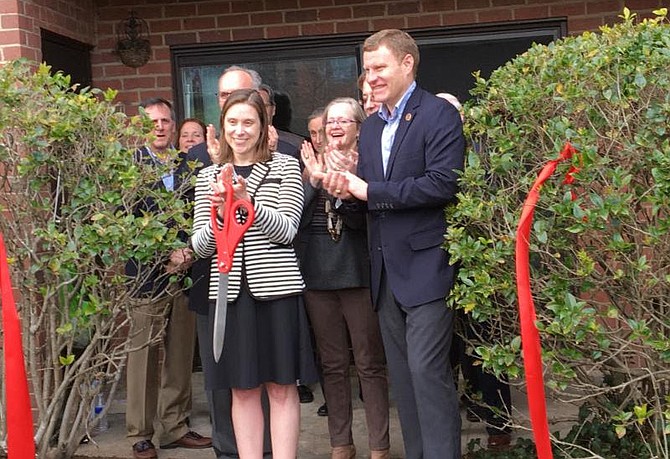 On March 6, 2019, Good Shepherd Housing and Family Services, Inc. (GSH) acquired its 70th affordable rental housing unit. This particular unit in Colchester Towne is a two-bedroom apartment and was acquired wholly using private contributions. Each acquisition expands the ability of GSH to offer permanent affordable rental housing in Fairfax County.
A special ribbon cutting ceremony commemorating the acquisition was held on March 14. Several state and county officials attended the ceremony, including: Jeff McKay, member, Fairfax County Board of Supervisors, Lee District; Paul Krizek, member, Virginia House of Delegates, 44th District; Karen Corbett Sanders, vice chair, Fairfax County School Board, representative of Mount Vernon District; James Migliaccio, member, Fairfax County Planning Commission, Lee District; Ashley Montgomery, director of Public Affairs, Department of Housing and Community Development, Fairfax County; and Albert McAloon, member, Fairfax County Redevelopment and Housing Authority Commission, Lee District.
"Preserving and developing new affordable housing remains a priority for Fairfax County," said McKay. "For many years, Good Shepherd Housing has been a strong partner with Fairfax County, providing affordable housing to struggling families. I am pleased to see that the community supports this effort as much as the county does, and am honored to celebrate this milestone acquisition which was purchased entirely with private contributions."
"Every year, GSH is able to help one thousand working households thanks to the support of our generous community," said David Levine, president and CEO of GSH. "We are planning to add at least an additional 150 units to our current housing inventory by 2025. Stable, affordable housing is the first step in a family's journey to self-sufficiency, financial stability and economic empowerment."
GSH was formed in 1974 when several parishioners at Good Shepherd Catholic Church found a struggling homeless refugee family living along Richmond Highway. They came together, first providing emergency shelter at a local hotel, building them a home, and then providing support services over many years. As times changed, the volunteers realized that need in the area had grown exponentially. In response, the organization hired a permanent, professional staff and acquired affordable housing units scattered throughout the Alexandria area of Fairfax County.
GSH is situated along the historic Richmond Highway corridor of Fairfax County and has housed thousands of neighbors in need. On average, GSH clients earn between 35 and 50 percent of the area median income (AMI), which in Fairfax County is $112,000 for a household of four. An analysis of the local real estate market has shown that for every two families that are within the 30 to 50 percent AMI, only one housing unit is available that is also affordable.