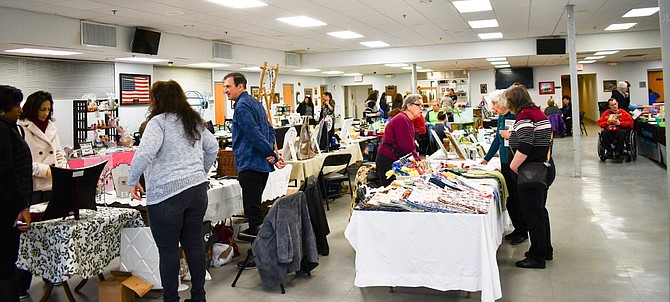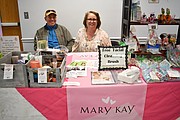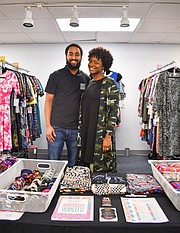 At every Vienna event, the core theme is community. Carol Blevins, the Vice President of the Vienna Fire Department's Auxiliary team, has been with the auxiliary for the last 28 years. "The auxiliary supports raising money for new fire safety equipment," said Blevins. "We have the best fire trucks. We have the best ambulances because we [the auxiliary] buy them. It's because of functions like this that make that possible."
This year is the 59th year the Vienna Volunteer Fire Department is holding the Craft Bazaar and the Blevins family has been a part of it for years.
"I've been doing this for 23 years," said Paige Williamson, daughter of Mrs. Blevins. "We do this to give back to the community. We live here, and if your house is burning down I want to make sure there is good equipment that's going to come to your house and save you," Williamson said. "All of the equipment downstairs is volunteer paid for, the county does not pay for any of that. The building here, we pay the electric bill all from fundraising money. So for example when we have our Taste of Vienna, craft shows, pancake breakfasts, bingo, all of that is to raise money."
Vendors selling a variety of items from Tupperware, clothing, fragrances, cosmetics, and jewelry filled the room. A table had raffle items and each donation came with a free bag of cookies.
"I love the people," said Robin Sailer, an independent stylist for Mary Kay makeup and resident of Vienna. "and I love how it helps the fire department."
People mingled about, conversing with the vendors and each other. The brightly colored clothes of LulaRoe stood out with Amber and Nick Johnson, independent fashion retailers for LulaRoe. "I love the family and atmosphere here," said Johnson. The Johnsons have been coming to the Craft Bazaar for four years. "We love the hosts," said Nick. "The fire department does a great job. We live in Woodbridge, but we love Vienna. Everybody is so welcoming."