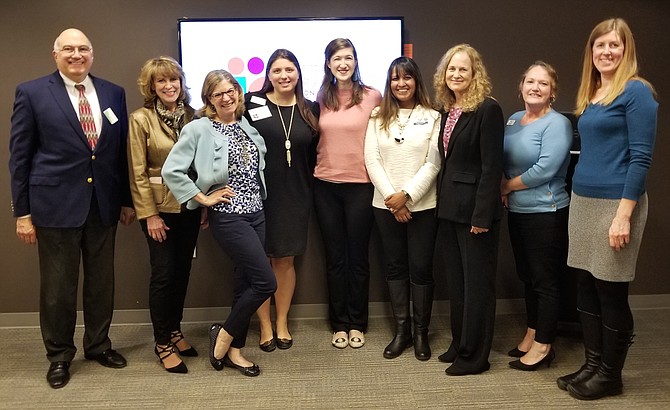 Insight Memory Care Center hosted the first Dementia Friendly America Symposium in Northern Virginia on March 12 from 5:30-7:30 p.m. More than 50 people were in attendance, including Supervisors John Foust (D-Dranesville), Cathy Hudgins (D-Hunter Mill) and Jeff McKay (D-Lee District), Chair of the Commission on Aging Carolyn Sutterfield, and Springfield district representative of the Commission on Aging Tom Bash. Community members in attendance included executives from continuing care communities, healthcare professionals and first responders from Arlington, Alexandria, Fairfax County, Loudoun County, Prince William County, Nottoway County and Warren County. This group of professionals gathered to learn about establishing Dementia Friendly Communities in their locales and to explore opportunities for involvement in currently established DFA communities.
The symposium began with opening remarks by Christi Clark, Insight Memory Care Center's Executive Director. Clark stated, "Insight is working to support all dementia friendly communities in our area and hopes that one day soon we can see a lot more communities on the Dementia Friendly America website that have been established as Dementia Friendly communities."
Toni Reinhart, founder of Dementia Friendly America – Herndon, PAC Certified Independent Trainer and owner of Positive Dementia Care Training, LLC shared what it means to be a Dementia Friendly community as well as her work to establish the Dementia Friendly America Herndon community. "It really hit home when my father got dementia and I spent more time out in the community with him. I realized it was not a good situation for most people with dementia and their care partners. I thought this has to change," said Reinhart. "Our goal is to make the community aware of what dementia is and what it looks like and make changes to make them and their care partners feel more welcome."
Following her keynote speech, Reinhart and members of the DFA Herndon Action Team including Paul Nasto, Nicole McMonigle Knight, Laura Smothers-Chu, and Robin McGlothin led breakout groups in specific exercises designed to help them think through possible Dementia Friendly America community start-ups and how to focus their efforts to provide maximum benefit in educating specific business and disciplines, such as the restaurant sector or first responders, on how to interact with people with dementia. This led to a discussion on how to grow more communities.
Dementia Friendly America is a grassroots movement to help communities become aware of the issues and opportunities when dealing with people with dementia. In 2016, Reinhart founded Dementia Friendly America Herndon as the first local Dementia Friendly America community in Virginia. It is the pilot project for the Commonwealth of Virginia. DFA Herndon has grown to become an effective organization bringing education and training to people dealing with dementia and an integral part of the fabric of Herndon. The first initiative was to focus on the Faith-Based sector. DFA Herndon has successfully educated more than 300 people from local churches and religious organizations. The second initiative was working with first responders to help them understand how to interact with people with dementia. In 2018, DFA Herndon became a program under Insight Memory Care Center.
In 2019, DFA Herndon will be working with the restaurant sector to educate and train staff members of local Herndon restaurants on how to interact with people with dementia patronizing their restaurant. This team, led by Peggy Breda, a DFA-Herndon Action Team member, will be contacting local restaurants and enlisting them to participate in becoming dementia friendly restaurants.
For more information on DFA Herndon or about starting up your own Dementia Friendly Community, please contact Nicole McMonigle Knight at DFAHerndon@gmail.com.
Dancing for Dementia
Dementia Friendly America Herndon will be hosting a Dancing for Dementia fundraising event on Thursday, April 4, 2019, from 5-8:30 p.m. at the NOVA Adult Day Care Center, 45940 Horseshoe Dr, Suite 100, Sterling. Tickets are $45 in advance and $55 at the door. There will be dancing, appetizers, live music, and a silent auction!