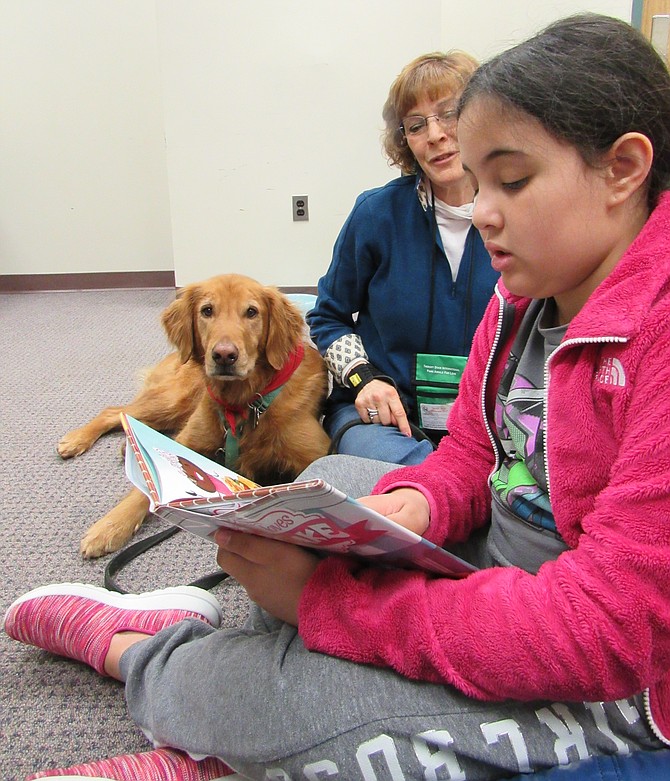 The Herndon Fortnightly Library, operated by Fairfax County, offers children ages 5-12 a chance to practice their reading skills through its ongoing program, Dog Tales. Reston Regional Library offers a similar program called, Read to the Dog. At both locations, children can bring a book or choose one from the library and share it with a specially trained, tail wagging, reading buddy and its handler during a 15-minute session. A parent or guardian must accompany the child.
On Saturday, March 23, handler Julie Galton of Oakton visited the library with her golden retriever, Copper. Dog and handler belong to Therapy Dogs International, nonprofit organization dedicated to regulating, testing and registering of therapy dogs.
Ava Robertson, 9 of Herndon, was the first reader who walked into the quiet meeting room, separate from the library buzz on the busy Saturday morning. Robertson walked over to a display table filled with books. "I haven't read this book yet," Robertson said as she selected one she thought Copper would like.
Before Robertson began, handler Galton introduced her to Copper. "Close your fist like this and hold it near his nose, so he knows you. Then turn your hand over, and you can pet him if you want," Galton said. She explained that Copper was a "therapy or comfort dog," not a service dog that assists people. After Robertson settled in the beanbag chair, Galton and Copper sat beside her. Robertson read her book and turned it around so Copper could see the pictures too.

Dog Tales provides a non-judgmental listener, a furry friend to read to who won't laugh at the children if they make a mistake but rather lies next to them and enjoys the story.
"The program allows children who are reluctant readers to be excited about reading and it allows children who want to improve their reading skills to practice in a comfortable environment. Part of the library's mission is to foster a lifelong love of reading," said Jenna Kirkhart, Youth Services Assistant at Herndon Fortnightly Library.
Deetya Dulam, 7, of Herndon read her book, "New Neighbors" to Copper during the second session. "I chose this book because it's short fiction, and I thought it would be good for a dog," Dulam said.
For information about Dog Tales and Read to a Dog, visit librarycalendar.fairfaxcounty.gov.