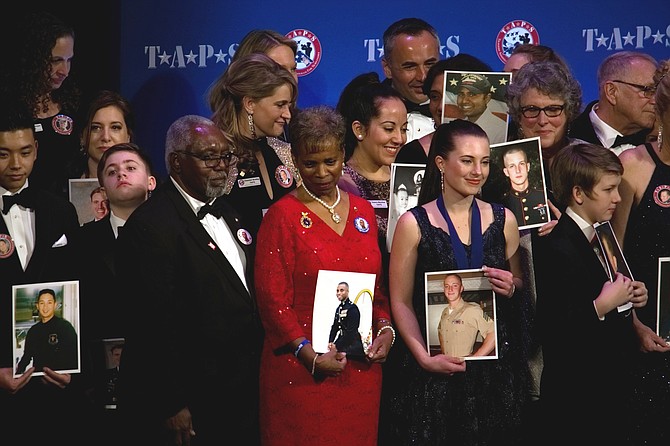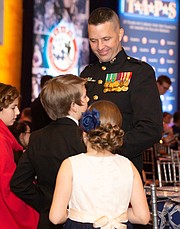 It was a night of celebration and of tears as Arlington-based Tragedy Assistance Program for Survivors marked 25 years of providing support and resources for grieving military families at the T.A.P.S. Honor Guard Gala March 6 at the National Building Museum.
"At T.A.P.S., we find hope," said President and Founder Bonnie Carroll, the surviving spouse of Brigadier Gen. Tom Carroll. "We create community, we have a new family. We know our heroes are forever remembered and they are honored — and we know that love lives on."
More than 800 surviving military family members and supporters were joined by congressional representatives, Pentagon officials and leaders from the business community in honoring the nation's fallen military heroes.
"If all I had to do tonight was say thank you, it wouldn't be enough," said Air Force Gen. Paul J. Selva, vice chairman of the Joint Chiefs of Staff. "It is comforting to know that when we go out to do what we do, there will be T.A.P.S. to care for those left behind."
Retired Marine Corps Capt. Kevin Penn was honored as the T.A.P.S. 2019 Military Mentor of the Year. Penn is among the thousands of active duty service members and recent veterans who volunteer as mentors for surviving military children at T.A.P.S. Good Grief Camps.
"As a military mentor at T.A.P.S., we receive far more from our service than we can ever give," Penn said upon receiving his award. "To the T.A.P.S. families here and across the globe, thank you for letting us celebrate the lives of your loved ones and share in your journeys."
Sen. Dan Sullivan of Alaska presented the T.A.P.S. 2019 Senator Ted Stevens Leadership Award to Angel Pansini, surviving sister of Marine Corps Sgt. Nicholas A. Pansini, in recognition of her leadership on behalf of other military survivors.
"It's unlikely that I would be the woman that I am today without the help of T.A.P.S.," said Pansini, who was just 12 years old when her brother committed suicide as a result of suffering from post-traumatic stress disorder. "I have a tempered understanding of what it means to give to someone during their worst time. T.A.P.S. has given me the irreplaceable: life after tragedy."
Other attendees included Michael Neidorff, Centene chairman and CEO; Gen. Martin Dempsey, USA (Ret), 18th chairman of the Joint Chiefs of Staff; and Darryl Walker, USAA Survivor Relations team manager.
The Legacy Sponsor of this year's Gala was the Centene Charitable Foundation/Health Net Federal Services. The Title Sponsor was USAA and Presenting Sponsors included BAE Systems, DynCorp International, Express Scripts, Lockheed Martin, Oshkosh Defense, Pratt & Whitney, Prudential and Telos Corporation.
Funds raised from the Gala will be used to provide support services to families who have suffered the loss of a loved one who served in the military. Programs include grief counseling, access to community-based care, casework assistance, a 24/7 helpline and special programming for suicide loss survivors. All services are provided at no cost to families.
"Our mission has stood the test of time — a steadfast commitment to providing grieving military families with compassionate support and critical resources," Carroll said. "Military survivors gain strength in the knowledge they, and their loved ones, will never be forgotten."
For more information, visit www.taps.org or call the T.A.P.S. helpline at 1-800-959-TAPS (8277).