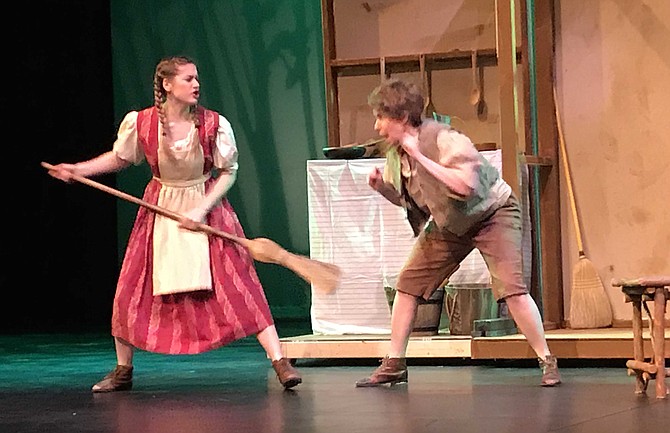 "Shall I eat it?" Hansel asks as he points to the gingerbread house.
"Yes!" shout most of the pre-kindergarten students watching Opera Nova's Hansel and Gretel.
"No!" shout the others. A few yell, "There's a witch."
Despite their age, most of the children brought by buses from local schools to Thomas Jefferson Middle School knew what was going to happen. Spoiler alert: They all applauded when the children tossed the witch into the oven.
"We explained the story to the children and saw a movie in advance," said Kim Kerby, a teacher at Abington Elementary School. This is the fourth year Kerby has brought her students to the annual five-day Opera NOVA opera production. "We want children to experience different types of storytelling," she said.
It may seem odd for 4-year-olds to sit through an opera, but it lasted only an hour, and there was lots of action. "I liked it when they pushed the witch in the oven," said one child. They laughed when Gretel chased Hansel with a broom. "I really liked Gretel," said one child. All of them seemed to like the gingerbread house, ooh-ing and ah-ing as the curtain opened to the set.
A few times unscheduled arias by crying children could be heard in the audience. And some seemed called to give standing ovations at awkward times. But for the most part, they were well behaved and spellbound by Engelbert Humperdinck's opera of two children who get lost in the woods and meet up with a witch. One little girl was standing and imitating the dancing. One little boy wanted to go right on stage and get in the action.
Christine Brown Munz played the witch, Kristi Spicer played Gretel, and Jennifer Matthews played Hansel. Joseph Baker played the father and Cara Gonzales the mother. The children seemed to enjoy seeing two children dressed as bees in the story.
Opera NOVA has been performing operas for children and other underserved audiences for over over 20 years, including such notables as "The Magic Flute," "The Barber of Seville" and "La Cenerentola (Cinderella). The school performance of "Hansel and Gretel" were held March 19-22 and one for adults and children not in these classes was held March 23.
Artistic Director Jose Sacin, who conducted the orchestra, introduced the children to the musical instruments at the beginning. Most of the kids thought the clarinet was a whistle, but Sacin corrected them on that. Director Alex Alburqueque took questions from the children afterward, including whether the actors were a family. "Well, we come from separate families, but we are a family yes," he said.