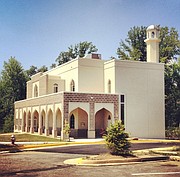 Jan. 29, 2019 marked seven years after Mubarak Mosque of Chantilly was vandalized with mostly all the windows shattered which were custom-made costing between $3,000 and $6,000 per window. The damages were estimated to be more than $200,000. The members were in shock as to who could have done such a thing. The workers had left the site in good condition earlier in the day. In the eve of Sunday, Jan. 29, 2012 the Mosque was damaged. Due to this, the opening had to be delayed for a few months. They had hoped to open the Mosque in a few weeks prior to this event.
Nothing was stolen, leading to believe that this was specifically targeted. Beer cans were left on the scene and it is believed that there was a small party as well. The Members had been trying to build this Mosque for decades and were so close to completing it. It had been said in one news article that the alcohol was enough for 20 people. This vandalism had made headlines in major news outlets.
An investigation led on for a few weeks finally leading to an arrest.
Mubarak Mosque was inaugurated by his Holiness, Hazrat Mirza Masroor Ahmad, the leader of the Ahmadiyya Muslim Community and the fifth successor to the Promised Messiah. The Mosque was inaugurated on June 27, 2012.
The Mosque had been split into three phases. One was the Mosque itself, second was the Mission House where the Missionary resides, and which contains offices. The basement of the Mission house is being utilized for classrooms which were built to teach the youth. The third and current phase is building a Hall to complete the Mosque. The building process for the Hall is set to start in April of 2019. The Hall will include a basketball court/multi-purpose hall, classrooms, and a multi-functional kitchen among many other things.
Rashid Yousaf
Centreville