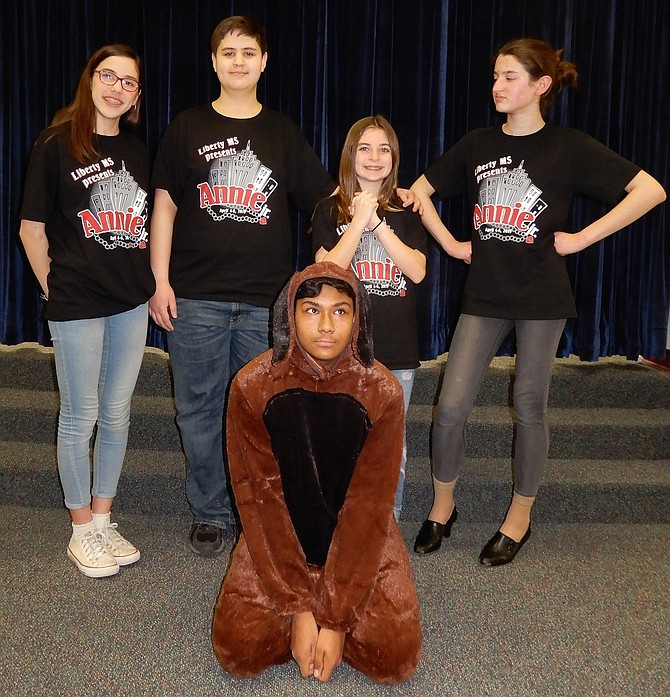 Featuring a cast and crew of 60, Liberty Middle School presents a junior version of the iconic musical, "Annie." It's set to burst upon the stage, Thursday-Saturday, April 4, 5 and 6, at 7 p.m. Tickets are $6 at the door or via https://www.itickets.com/events/421534.
"I have a very talented cast," said Director Jody Scott. "The kids have worked really hard and have looked out for, helped and supported each other. They take direction well and have learned to react to the words and actions around them, even when they're not the one speaking onstage. And there are lots of song-and-dance numbers, which will definitely be crowd-pleasers."
Annie is a strong, spunky orphan who believes her parents are coming back for her. She's eventually befriended by a stray dog and the secretary of millionaire Oliver Warbucks, who wants to adopt her. But first, he offers a $50,000 reward to anyone who can prove they're Annie's parents — and trouble ensues.
The story takes place during the Depression in 1933 New York City, and the scenes unfold in an orphanage, a mansion, a radio show with an audience and on the streets of New York. There'll even be some vintage phones, plus an old-fashioned radio.
"Our Annie, Caitlyn Barnes, has a beautiful voice," said Scott. "Last year, she was the only seventh-grader from Liberty to make the All-State Chorus, so we're really blessed to have her in the show — and she's having a good time. And Katie Wood, our dance captain, helped teach the dances to the actors and has been wonderful. She's also an outstanding dancer, herself."
Scott praised teacher Laura Bellis, too, for hand-sewing Annie's outfits, plus some of the other costumes. "She's elevated this show with the quality of her work," said Scott. "And our music director, teacher Gary Verhagen, pulls beautiful sounds out of everyone."
She's also excited that new Liberty Principal Adam Erbrecht will be coming to the show. "He's really looking forward to seeing his first musical production at Liberty," said Scott. "And we appreciate all his support of the theater program here."
One of her favorite songs is "It's a Hard Knock Life" because it's a big production number in which 25 orphans will be dancing with 25 mops while singing and cleaning the floor. But she said that's just one of many things to like about this show.
"We have great singers and dancers, and the actors are all doing a wonderful job and paying lots of attention to detail," said Scott. "The show also has a good message for today that 'The sun will come out tomorrow,' and it leaves the audience hopeful and happy."
Portraying Annie, 11, eighth-grader Caitlyn Barnes describes her character as "positive, full of hope, funny, happy and smart. Even though she's an orphan, she's like an older sister to the other kids and is caring and sweet. And once she moves to the Warbucks mansion, she can be more like a carefree kid."
Caitlyn's enjoying her role because "Annie's happy like me and, even though she doesn't have any parents, she's still positive, which is really cool. Being the lead is kind of stressful, but also an awesome experience because everyone –— my family, friends and people in the play — is so supportive."
She especially likes the number, "Maybe," sung by Annie and the orphans. "It's a really hopeful song about how, one day — maybe — they'll have families like other kids," said Caitlyn. "It's a pretty tune and really heartfelt."
Caitlyn said the audience will like the show's energy and "how everyone's into it — which makes a good play. The characters are really cool, and everyone plays them well. And they'll like the music, too."
Eighth-grader Noah Martineau plays Oliver Warbucks. "He's a wealthy, no-nonsense businessman," said Noah. "But once he meets Annie, you see the soft, fatherly side of him. And he's sad when it looks like he's going to lose her to other people."
He's fun to play, said Noah, because "I get to show both sides of him. He's almost two, completely different characters. I have to memorize a lot more lines, stage directions and songs, as one of the leads, but it's definitely worth it." Noah's favorite song is "You're Never Fully Dressed without a Smile" because "It's upbeat and fun to listen to. It's sung by all the orphans, except for Annie."
He said people will enjoy all the different characters, particularly the shady ones, as well as the orphans. "All the songs are catchy and will have you singing them in your head, for days, after seeing the show," said Noah. "And our director, Ms. Scott, is really good, so all the movements are fluid and there's always a specific reason why the actors are moving or reacting in a certain way."
Portraying Warbucks's private secretary, Grace Farrell, is eighth-grader Beth Buono. "She's proper, sophisticated, polite and very put-together," said Beth. "And once Annie comes into her life, she's loving and nurturing toward her. It's fun playing Grace because, once I get into costume — including a short, wavy wig — I 'become' her and feel more like her character as a secretary."
Beth especially likes the number, "I Think I'm Gonna Like It Here," sung by her, Annie and the servants. "It's when Grace is showing Annie around Warbucks's mansion," said Beth. "They tell Annie this is her new home now, and she feels like more of a normal kid, instead of a mistreated orphan."
She said audiences will like the show's storyline and the journey it takes them on. "They'll laugh at the funny characters and will love the songs and the whole experience. They'll enjoy themselves and feel like it's worth it to be here."
Eighth-grader Maddie LeBerre plays Miss Hannigan, who runs the orphanage. "She despises every part of her job — especially the little girls — and that's why she's so mean to them," said Maddie. "She's frustrated with her life because she's not where she wants to be, wealth-wise, so she tries to get the attention of rich men."
Maddie likes her role because "Miss Hannigan's personality is so different from my own. Most of the things she says and does, I wouldn't dream of doing, but it's so delightful to play her onstage. She's also different from the other characters in the show because she's one of the few adults who's under-educated and rough around the edges."
Maddie's favorite song is "Easy Street," sung by her character, plus Lily and Rooster — who claim to be Annie's parents so they can get the reward money. "They're singing about their plot to use Annie to become rich and be on Easy Street," said Maddie. "Most of the time, Miss Hannigan is angry, mean and frustrated. But in this song, she's happy and excited — even if it is for malicious reasons."
She said the energy and hard work everyone has put in really shows through each character — "from their facial expressions to how they deliver their lines. We're all having so much fun with the show, and we love sharing it with people."