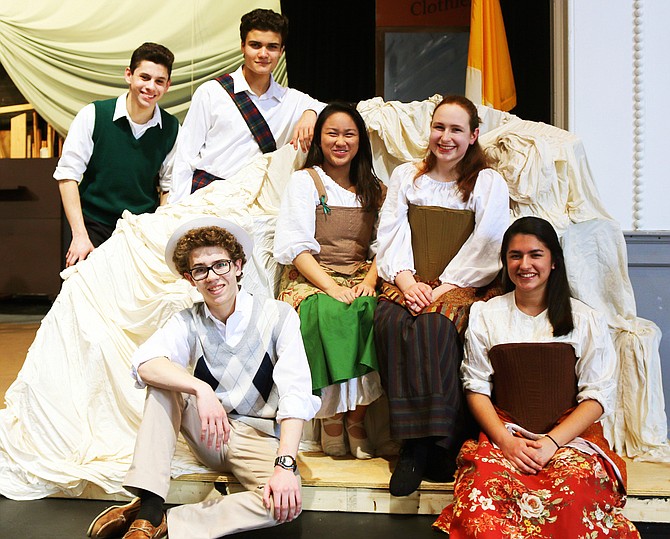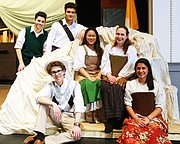 Featuring a cast and crew of 60, Paul VI High presents its Cappies entry, the musical, "Brigadoon." It's about a magical, 18th-century village in the highlands of Scotland that only appears every 100 years – and just for a day.
It's the 1940s, and two American hunters get lost in the woods and come upon the village. But when one falls in love with a villager named Fiona, he must choose whether to stay there with her or leave and never see her again.

The curtain rises Friday-Saturday, April 5-6, at 7 p.m., and Sunday, April 7, at 2 p.m. Tickets are $15, adults; $10, students and senior citizens, at the door or via stpvihs.booktix.com. And Director Kathy d'Alelio is excited to bring this show to the PVI stage.
"Ages ago, I acted in it, as Fiona, in Summer Stock, and fell in love with the music," she said. "The score is just gorgeous. And we've done several years of contemporary musicals, so I wanted to get back to a classic."
The school's former choral director, C.J. Capen, is the music director. And, said d'Alelio, "He's working beautifully with the kids – they sound wonderful. We have talented students, both onstage and behind the scenes. They're all working hard on a show they'd never heard of before, and I had a dialect coach teach them Scottish accents."
She said "Brigadoon" contains humor, plus emotional moments. "There's a lot of joy in this show," said d'Alelio. "And seeing it, some people will wish they had a magical place like Brigadoon to escape to."
PLAYING FIONA is senior Emma Hitchcock. "She's strong-willed, but demure," said Hitchcock. "She wants love and will wait patiently for the perfect person for her. I love this role because Fiona's complicated and has depth to her actions and words. And she questions things that don't make sense."
Hitchcock's favorite song is "Heather on the Hill." She sings it with Nick Burgos, who plays Fiona's love interest, Tommy. "It's pretty," she said. "And while singing, they realize they like each other."
Senior Grace Lyons plays a villager in the ensemble and understudies the role of Jane Ashton, Tommy's fiancé in New York. "She's rich, sophisticated and speaks her mind," said Lyons. "She doesn't realize Tommy was drifting away from her, even before he left, and she still loves him."
Lyons said the "dancing and scenery will hook people right away because they're pretty, vibrant, stimulating and engaging." And Hitchcock said the audience "will love the music, dancing, romantic story and, hopefully, the costumes." She mentioned costumes because she and Lyons designed and made some 75 percent of the women's costumes, plus kilts for the men.
"We researched online to get historical information and decided to make blouses, stays and skirts," said Lyons. (A stay is a stiff, supportive bodice worn outside a blouse). Although they've headed the costume crew two years, they've never made this many outfits before, so it was labor-intensive. They made patterns, took people's measurements and then taught helpers to sew. Best, said Lyons, was "seeing it all come together and seeing that it worked."
"We'll have the fabrics picked and know generally what something will look like," explained Hitchcock. "But we don't know for sure until they're wearing the costumes." As for playing a lead while designing, she said, "I had to relinquish control of things and know my limits. I'm so lucky Grace worked on this with me – she organized it all."
Senior Rosemary Ketron has headed the sound crew for four years. She keeps track of the actors' microphone packs and finds the sound effects and music needed for each play. That includes music before a show starts, at intermission and as the audience leaves. "Music adds to the show's tone, such as urgency because time's running out," she explained. She also adds extra sound effects, such as nature noises in this production.
"The hardest part is tuning the microphones so each actor sounds like himself," said Ketron. "The soundboard has multiple knobs to adjust each tone."
She went into tech because she liked the community of theater, but didn't want to be onstage. "In middle school, I pressed a button for announcements," she said. "And I wanted to learn more about the complexity of sound. I also like being in union with the actors. We're all PVI Players working together to put on the show, and everyone is appreciated. I've made great friendships and became an expert in techniques I might not have learned anywhere else."
Set designer Caitlin Fernandez, a senior, also plays a lead, villager Meg Brockie. "She's looking for love and a partner to share her life," said Fernandez. "She's outgoing, and I like singing her fun, upbeat songs because she tells stories through them. She's also the show's comic relief. My favorite song is 'My Mother's Wedding Day,' in which I tell a story to lighten a sad moment."
Fernandez said audiences will like how this show is about "finding love and being part of a community and a family. It'll also let them escape reality for a couple hours."
This was her first set design. "I'm an artist and always loved theater," she said. "So I wanted to combine those interests and transport people to another world through the set." The scenes take place in the Scottish highlands, on a town square and inside some houses, but most of the action happens outdoors.
MOST DIFFICULT, said Fernandez, was "finding a way to take the audience on this journey without crowding the actors onstage. It took me a couple months, but it kept evolving and improving. And eventually, all my hard work paid off. When we started building it, I could see the pictures in my head come to life and become reality."
Also doing double duty are seniors Kathryn Webb and Maddie Mangilit. Both play large roles while heading Brigadoon's marketing team. "In December, at Alexandria's Scottish Christmas Parade, we passed out cards with the show dates on it," said Webb. "And in January at PVI's all-night party, we put on a small version of the Scottish Games and gave free show tickets to the winners."
Mangilit started a YouTube channel for the show and PVI Theater, highlighting the musical's rehearsal process and technical aspects. Students are hanging up show posters in businesses, around school and in other parishes. And, said Mangilit, "I'm working with cast member Ryan Jahn on a documentary of the making of 'Brigadoon' and will post it on YouTube."
"We also had a poster-design contest," said Webb. "The winner, Caroline Elszy, drew a beautiful landscape showing Tommy and Fiona on a bridge, and I put it on the show's posters, buttons and business cards."
Webb also portrays Ashton and dances in the ensemble, and Mangilit plays Fiona's sister and does a special dance. Overall, said Mangilit, "It's a classic love story that'll leave audiences emotional."
"It's family-friendly, upbeat and fun," added Webb. "And the story is timeless."