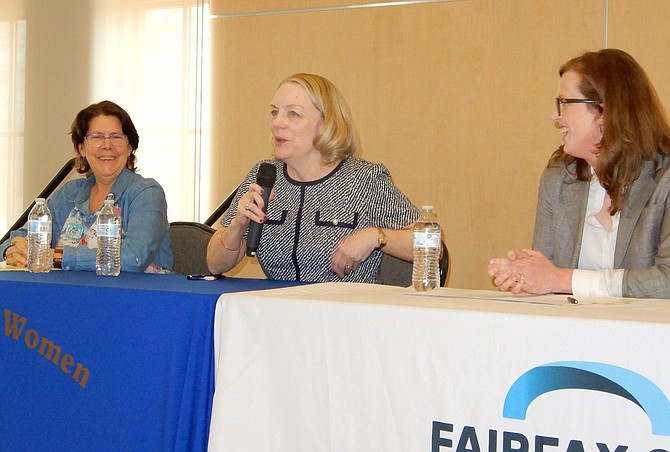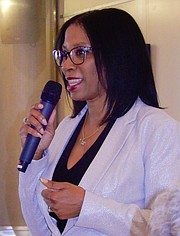 Gazing upon a room filled with women who own businesses in Fairfax City, DeShawn Robinson-Chew asked them to stand if, as children, they saw themselves as future businesswomen and CEOs. Very few stood.
And that was the point of the second annual Fairfax City Women-Owned Business Luncheon – to celebrate these women's accomplishments, make them more widely known and enable these female business owners to both network with and support each other, going forward.
"No one told me I could be an entrepreneur or be in a position of leadership in business," said Robinson-Chew, who established She-EO, LLC: Social Enterprise Educating and Empowering Tomorrow's Female Founders. "But my grandmother owned a catering company – and what you see, you believe."
Held March 13 at the Sherwood Center, the luncheon was co-hosted by the City of Fairfax Commission for Women and Economic Development Authority; Freedom Bank of Virginia and the Central Fairfax Chamber of Commerce were the sponsors. It included guest speaker Robinson-Chew, a panel discussion by women business-owners in Fairfax City and exhibits by other women owning businesses here.
Currently, said Robinson-Chew, "There are six male-led firms for every two women-led. And the other 20 percent are male- and female-owned together. Women-led firms had $1.5 billion in sales last year; men-led businesses made $9 billion."
PART OF THE PROBLEM, she said, is that "Only 2 percent of the venture capital awarded goes to men, and only 15 percent of corporate boards contain women. And you see predominantly men in business colleges, and that's why I founded She-EO – to tell women that they, too, can be CEOs."
Robinson-Chew also developed six principles followed by women who become CEOs:
"We're sophisticated. We take what we know and make changes. We're knowledgeable, experienced and prepared.
We're healthy in body, mind and community. Women with healthy bodies and minds can encourage each other to create a healthy community.
We're economical. We need to be financially literate and empowered.
We're entrepreneurs. We're problem-solvers and change agents; you can be the change in business.
We're original. Everyone's unique and original, so own your special talent and what you bring to the community.
We're able to own it. Believe in yourself."
Robinson-Chew then had everyone say this mantra together: "If I can dream it, plan it, do it, I can own it."
So, she urged, "Go out and be CEOs." She also mentioned her summer camp that teaches business skills to girls. For more information, go to www.BEaSheEO.com.
She then answered questions from the audience. City Councilwoman Jennifer Passey, involved with Girls on the Run, said, "Studies say girls' self-esteem plummets at age 9. So what can we do to help change this statistic?"
"It's important for girls to see moms as role models and to also see them at work and see what they do," replied Robinson-Chew. "And each mom needs to call her daughter by name and tell her she can do it and can be a CEO."
Next came the panel discussion featuring City of Fairfax business owners Dawn McGruder, Deborah Dillard and Laura Berry. They shared the lessons they've learned to be successful in their fields and gave valuable advice to other female business owners.
Speaking first was McGruder, a CPA and president of The McGruder Group CPAs. She founded the company in 1996 after working in both private industry and the federal government.
"There are three things women need to learn," she said. "We need to be good at what we do, understand the tax implications of our decisions and be knowledgeable about marketing."
If she knew what she knows now, when she was just starting out in business, said McGruder, "I would have started networking earlier and found mentors. I also would have found services [to help me] and not felt so isolated. And I would have learned sooner where to find my customers and who were good referral sources, such as financial planners and attorneys who help people start businesses."
Dillard has owned several businesses and currently owns Paint Your Own Pottery on Main Street. Basically, she told the crowd, "You have to give people a reason to buy from you, other than the product you're selling. Make it easy for them to give you their money. And last impressions are as important as first ones – thank them for coming."
She also advised business owners to "fail fast and fail cheap. You'll make mistakes; don't be sentimental about things and locations. If you're selling what people don't want, stop selling it. Find your niche and sell to those folks. And your customers can never, ever think you're getting rich off of them and that you're padding the bill, so make the cost clear."
FURTHERMORE, said Dillard, "Buy one-third of products you love, one-third that are OK and one-third that you wouldn't be caught dead in a ditch with – because someone will love it. Unless you're getting paid for it, keep your opinions to yourself, unless asked. Give people what they expected, and more. It's easy to be nice. And remember, whatever you're selling, you'll be part of somebody's memory."
Berry is a content strategist, branding specialist and communications professional. She owns the consulting firm, Cogberry Creative, and is involved with the national, women business-advocacy movement. Skilled in marketing and writing, she encouraged women entrepreneurs to "know your audience. And know and share your core values with your subcontractors and clients."
"Your budget is your business plan," she explained. "Competition is a goal, but collaboration is a business strategy. Some 75 percent of my business comes from other women-owned businesses. Do the research; women need to help other businesses. If you see it, you can be it. You'll find women wanting you to mentor them, and they'll appreciate your help. You'll also find women who can mentor you."
Berry listed several resources they could check out, including the Women's Business Enterprise National Council and the National Women's Business Council.
Then Councilwoman Janice Miller urged all the women at the luncheon to see themselves as mentors. "Make new friends and help them along," she said. "Share your knowledge and help them form their own ideas."
Dan Marks with Freedom Bank spoke about some of the new things his bank is offering to help businesses, groups and nonprofits.
And Jennifer Rose, executive director of the Central Fairfax Chamber of Commerce, said, "The Chamber is all about building community, and we specialize in helping small businesses find their niche. We help them find connections and networking opportunities."
Then Beth Young, with the Fairfax City Commission on Women, discussed Communities of Practice, a local networking opportunity for women entrepreneurs, and those interested signed up afterward.
Also speaking was City Mayor David Meyer. "Today, we have more women in Congress than ever before, and women all over the country are running for office," he said. "The effort of women to start and run businesses also creates independent, long-term, financial security for yourselves and your family."
He advised women business owners to "extend grace [to others] – even when you can't afford to do it." And noting that, as women gain more power in the U.S., life will be enhanced for all, he told them, "I commend you for your determination, focus and success. When you are successful, everyone is."