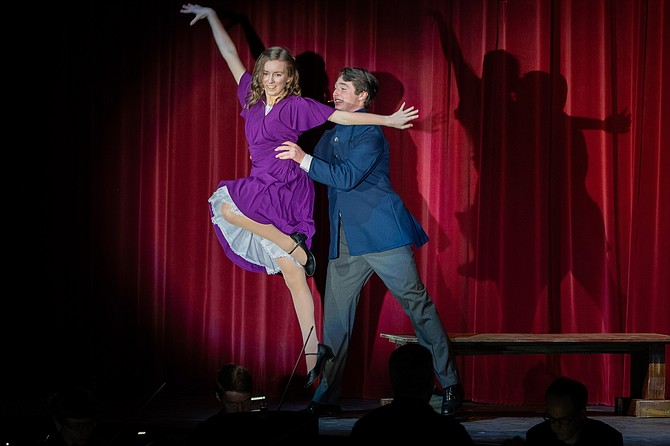 Through the hills and the abbey, comforting songs could be heard throughout the theater and, like raindrops on roses and whiskers on kittens, Herndon High School's production of "The Sound of Music" was, as they say in Austria, unglaublich (incredible)!
"The Sound of Music," music by Richard Rodgers and Oscar Hammerstein and book by Howard Lindsay and Russel Crouse, first premiered at New Haven's Shubert Theatre in 1959. That same year, it opened on Broadway in the Lunts-Fontanne Theater before moving to the Mark Hellinger Theater in 1962 and went on to win five Tony awards. In 1965, a movie version was made starring Julie Andrews and won 5 Academy awards. "The Sound of Music" was also Rodgers and Hammerstein's last musical they wrote together before the death of Oscar Hammerstein.
This musical follows a carefree yet troublesome soon-to-be nun named Maria Rainer who gets sent to be a governess for the von Trapp children. Their father is the hardened Captain Georg von Trapp who eventually falls in love with and marries Maria. But when he is commissioned to be in the German navy under Nazi control, he, Maria, and his children flee from Austria. This story is actually based on the memoir of Maria von Trapp called "The Story of the Trapp Family Singers".
Leading the show at Herndon was Erin Maxwell who played Maria Rainer with not only an immaculate innocence, but also maturity. Her voice was beautiful in every song she sang and was easily one of the audience's favorite things. Her movements and hand gestures were very graceful and were almost like that of a dancer. A very impressive aspect of her performance was her ability to switch maturity based on her situation, feeling like she was the youngest among the nuns, but becoming more of a mother figure with the von Trapp children.
A standout group in this performance were the von Trapp children who consisted of Liesl played by Cara Ainge, Friedrich played by Ankit Poudel, Louisa played by Emma Harris, Kurt played by Genaro Mejia, Brigitta played by Hannah Clements, Marta played by Claire Callaway, and last, but definitely not least, Gretl played by Alyssa Ruark. Each child had a very specific dynamic with every other child and their singing was good enough to win a festival. Their energy was consistent and was especially good in Hannah Clements' Brigitta who had perfect comedic timing and played a well balanced innocent, yet frank child.
One of the most impressive parts of this show were some of the technical aspects. Their set was very large and detailed and was used to its fullest potential. The grand staircase was versatile and could change from the von Trapp house to the abbey just by pulling the curtains closed a bit. Their lighting was thoughtful and effective, creating the inside of an abbey just with a light on the grand drape.The cues were impressively well timed. Another noteworthy aspect were costumes, specifically the sheer amount of costume changes with almost all of the costume changes being insanely quick.
This was all to create the world of Austria and the von Trapp house, which they succeeded tenfold.
And so, with a so long, farewell, auf wiedersehen, and goodbye, Herndon High School's committed and energetic actors and very intelligent use of technical aspects all amounted to "The Sound of Music" being do-re-mi-fa-so great!