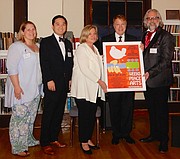 Billed as "An Aquarian Explosion: Three Weeks of Peace & Arts," Fairfax's 34th annual Spotlight on the Arts festival kicked off Friday night, April 26, with a music-filled gala at Old Town Hall. The fun even included a surprise rendition of the Blood, Sweat & Tears song, "Spinning Wheel," sung by Councilman Michael DeMarco, accompanied by GMU's Dirty Gold Brass Band.
Dignitaries attending included Del. David Bulova (D-37), Fairfax Mayor David Meyer and City Council members Jennifer Passey, Sang Yi, Janice Miller and DeMarco. Several performers entertained, and GMU music professor Anthony Maiello was recognized as the festival's honorary chairman.
Spotlight's mission is to enhance awareness of the cultural opportunities in the Fairfax/GMU community, encourage new and emerging arts groups in this area and provide scholarships to students taking arts-related courses at Mason. And this year's festival also honors the 50th anniversary of Woodstock with three weeks of music, dance, theater and visual art by bringing the "Age of Aquarius" vibe into the local community.
Events will be held, from now through May 12, at various venues throughout the City. For a list of each one, plus their dates, times and locations, go to www.FairfaxSpotlight.org.
More like this story