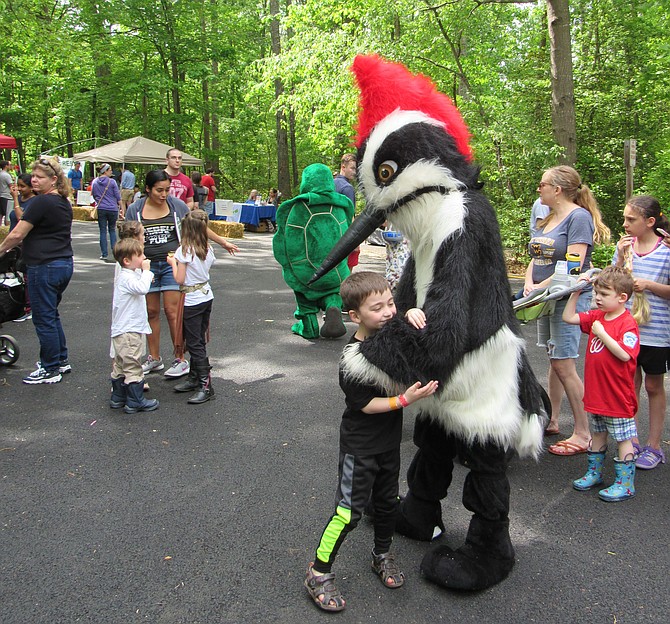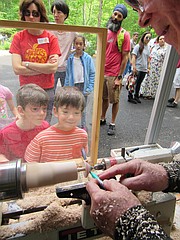 Reston Association produced and presented Walker Nature Center's biggest event of the year, its Spring Festival 2019, connecting citizens with nature.
"It's a chance to teach all ages about Reston's wildlife, plant life and water, said Katie Shaw, center manager. Located at 11450 Glade Drive, Reston, Walker Nature Center is 72 acres of woodland. It features streams, ponds, a wetland pool, native plant gardens, natural surface trails, paved paths, pavilion, entrance to Lake Audubon and a LEED Gold education building known as Nature House.
DURING THE FESTIVAL, held on Saturday, May 4, parents and children packed the meeting room at Nature House for three educational and environmental performances. Becky Shore of the Wildlife Ambassadors allowed everyone to get up close to her rescued animals, species similar to those found in Reston backyards during her "Wild Virginia" presentation. The second performance, a high-energy show by Mad Science, brought experimentation alive much to the delight of the children. Bob Brown Puppets, Second Hand Stars featured recycled, thrift store and garage sale cast-offs transformed into puppet friends.
"Reston is a Biophilic City," said Shaw who explained Reston works to celebrate nature and enables its inhabitants to benefit from biodiversity and natural spaces. "Events like Spring Festival just prove how important our green spaces are and how people enjoy spending time in them," Shaw said.
Outside of Nature House and down a stone dust trail, Ella Prillwitz, 6, her brother Frank, 3, and dad, Alex of Reston stood in the woods with white papers pressed against the bark of a tree. They took their crayons and rubbed them gently against the paper. Once an image of the tree bark formed, each took it off and ran over to the RA Tree Station to use in tandem with a field guide and identify the tree from its bark. "We came here for the Walker Nature Center's Spring Festival 2019, to learn more," said Alex Prillwitz.
At the Walker Nature Center Pavilion, Rahima Yaqubi held her son's hand tightly. Ahmademaad Shokohmand, 3, moved closer and closer to Liz Dennison, owner of Secret Garden Birds and Bees. Dennison held her arm out vertically like a perch. On it stood a great horned owl. "A car hit the bird, and it was injured," said Dennison. "This is only his second time out (for a program)." Dennison works with birds of prey as an educator and rehabilitator. She told visitors about the owl's diet of mice, powerful talons and large eyes adapted for night hunting.
RESTON COMMUNITY CENTER sponsored the acoustic music of The Stewart Sisters, Song Garden and Lindsey Hirshfield on stage at Nature House's front porch overlooking the outdoor sale, information and demonstration booths. At one booth, Catoctin Area Turners of Leesburg set up their laths and demonstrated top turning to children and adults who stood safely behind Plexiglass wall shields. Jim Pahl and other turners gifted finished tops to the children.
Nearby at the Audubon Society of Northern Virginia's booth, Mathilda Mace, 4, of Reston attempted to match her 'wingspan' with that of birds found in Virginia. "My wingspan is a crow and a broad wing hawk," Mace said excitedly.
By day's end, Shaw reported an estimated crowd of 1,000 people visited Walker Nature Center's Spring Festival 2019.