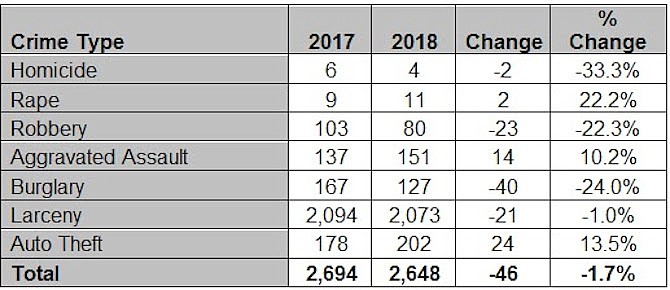 The total of reported Part I crime decreased 1.7 percent in Alexandria for calendar year 2018 versus 2017, according to the Alexandria Police Department.
The Federal Bureau of Investigation divides offenses into Part I and Part II crimes. Part I crimes are considered more serious because they include crimes against people. Since Alexandria generally has a low crime rate and a lower number of criminal incidents, small fluctuations in incidents when comparing annual data can lead to larger percentage changes, according to the APD.
The grand total of Part I Offenses (homicide, rape, robbery, aggravated assault, burglary, larceny and auto theft) was 2,648 — down from 2,694 in 2017. [See chart.] 2018 is the fifth consecutive year in which the crime rate in the City of Alexandria has trended downward.