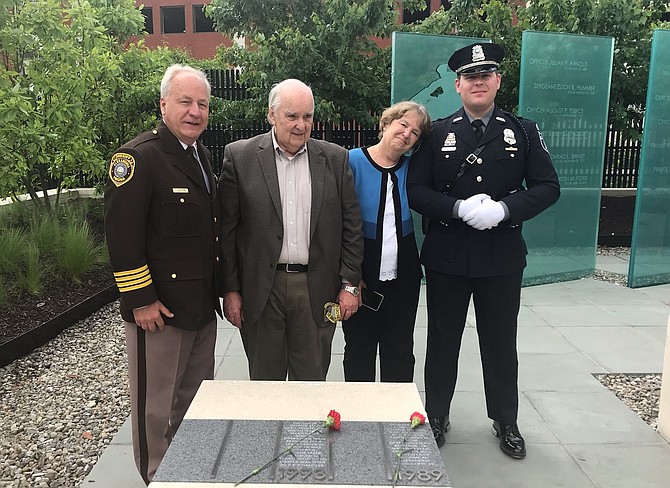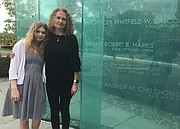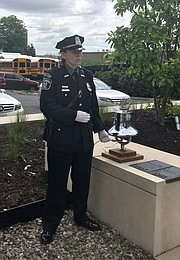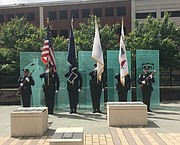 A single bell tolled as the name of each of the 18 officers who lost their lives in service to the City of Alexandria was read during the Fallen Officers Memorial wreath laying ceremony May 6 at Alexandria Police Department Headquarters.
Family members and friends gathered to remember and honor the service of the slain officers, including Sharon Yoakum King, who was just 4 years old when her father, Private Eugene Yoakum, was killed in the line of duty on Sept. 27, 1964. Yoakum, one of the department's first K-9 officers, left behind a wife and three children. Yoakum Parkway is named in his honor.
The APD Color Guard opened the ceremony and Police Chief Michael Brown and retired APD Capt. Ken Howard delivered remarks. Capt. Monica Lisle performed the End of Watch Roll Call, reading the names of each of the slain officers as a single bell tolled and a red carnation was placed at the memorial.
Also in attendance were Ginny Hill Obranovich, widow of Corporal Charlie Hill, and their son, APD officer Robert Hill. Corporal Hill was killed March 22, 1989, when responding to a hostage situation in Old Town. A park in Del Ray bears his name and Obranovich now serves as the executive director of the Alexandria Police Foundation.
The ceremony kicked off a series of events for National Police Week, which runs through May 13.
See www.policeweek.org.