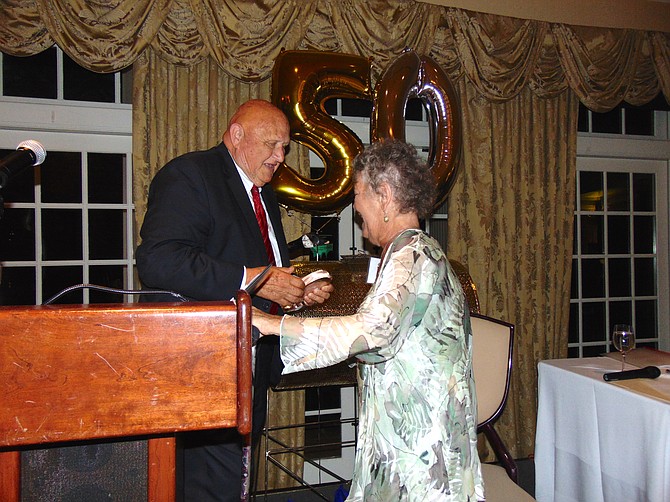 More than $250,000 was raised at United Community Ministries' 2019 Give From The Heart Gala on Friday, May 3. An overflow crowd of attendees celebrated the organization's 50th anniversary at the Belle Haven Country Club.
Community, civic, and political leaders joined UCM supporters representing the Alexandria , Arlington, and southeast Fairfax region to raise money and rededicate the organization to the cause of helping struggling families in the region.
In the welcome letter to attendees Board Chair Ken Disselkoen and Executive Director Alison DeCourcey described the organization's focus and outlook: "At UCM, we have become aware of a powerful force that pulls whole families down into a vortex of impoverished education, underemployment, and constant frustration. We call it the gravity of poverty. So, as we honor our first 50 years of neighbors helping neighbors and look forward to the future, our aspiration must be to end multigenerational poverty."
UCM had recently established an award to annually honor community leaders, called the Gerald W. Hyland Humanitarian Award. Recipients of the award include the following:
2019: Addy Krizek, who held a variety of leadership positions at UCM and other service organizations for many years.

2019: U.S. Sen. Mark Warner, former member of the UCM Board. Elected to the U.S. Senate in 2008 and reelected in 2014. Warner delivered a speech to the assembled guests on the importance of the work of UCM.

2018: Joanne and Bruce Malkin are retired Foreign Service Officers of the Department of State, supporters of UCM, and volunteers to the Mount Vernon Kiwanis organization.

2017: Gerald W. Hyland: Retired from the Board of Supervisors after 28 years of elected public service. And former UCM Board chair.
As part of the proceedings, DeCourcey delivered a keynote address in which she announced the change in the UCM name to United Community, and the rationale for the change. In that connection she emphasized "that only a United Community can empower our neighbors in need to transform their lives and end multigenerational poverty."