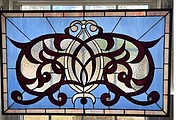 Professional jurors Nehemiah Dixon III, Lauren Hilyard and Laura Roulet, with assistance from Greater Reston Arts Center (GRACE) curatorial staff, selected Reston artist Dana Ann Scheurer as one of the more than 200 fine art professionals from across the county and Canada to sell her work at the upcoming 28th annual Northern Virginia Fine Arts Festival taking place May 17-19 in Reston Town Center.
What made Scheurer's selection in one of the country's "top five" outdoor art festivals unusual, is the number of times over the last quarter of a century that jurors and staff chose her for the high-end event. "This is Dana's 28th year participating in the Northern Virginia Fine Arts Festival," said Lily Siegel Executive Director and Curator, GreaterRestonArtsCenter.
"I am very proud and grateful to have been selected to participate in every Northern Virginia Fine Arts Festival since the inception of this highly regarded annual show," said Scheurer.
"The first Festival had only 25 artists (and) most did not use a tent," said Scheurer. "My young daughters were helping me with my booth, wearing pink festival shirts I designed and white pants. Two beautiful days until Sunday closing. The skies opened up, and the pink bled all over the white pants. Now, everyone uses a tent. It also gives a much more unified appearance."
CHALLENGED if she could think of improvements to the high-end Festival, Scheurer said, "I am asked that very question every year, and I give the same answer. "Nothing, keep it great, and GRACE does. I cannot stress how well-organized this event is. There is not a question that the gallery staff cannot answer. We are provided ample information on booth setup and arrival, parking, weather updates, departure. There is an artist lounge where we are provided amenities, (and) the Festival provides… volunteer booth sitters, eager to step in to provide short breaks. In short, the Festival gets better every year, but then, I have been saying that for 28 years."
As for advice to new Festival artists, Scheurer said, "Come to the event knowing that you will be well taken care of and guided along the way to make this a wonderful experience."
To Scheurer, her art is both work and play. "I have taken great care and hard work developing my personal style, technique, use of imagery, precision use of color. These things have not just happened. Imagery is woven throughout to create a foundation and then inhabited with imagination and humor. I am definitely playing at work."
Scheurer said, "I find that Reston has an amazing spirit of life that is an ever-changing architectural landscape providing limitless opportunity for artistic subject matter... Founder Bob Simon was a great influence and provided amazing landscapes for inspiration."
One of Scheurer's most recent works is a piece called "Streamline Silver Line." She said that it is a painting that takes Reston from the beginnings at Lake Anne Village Center to present icons of Reston Town Center. "I am fortunate to have been able to count installations in corporate offices, private collections, the Smithsonian Museum Shops but most importantly, to people who simply honor me by taking my work home where I hope they bring pleasure to them each time they see them," said Scheurer. According to Scheurer, visitors to the Festival can find her at Booth #236 with works ranging in price from $100- $4,000.
According to spokesperson Deb Fiscella, among the other 200 plus artists selected into the 2019 Festival are four local artists: Jill Banks, Fairfax, Painting, Booth 506; Chris Carskaddan, Great Falls, Wood, Booth 415; Jeff Spugnardi, Arlington, Woodwork, Booth 408; and Ernest Kibler, Arlington, Stained Glass, Booth 412.
FOR MORE INFORMATION about the Festival and volunteering, sponsoring and supporting the Adopt-an-Artist, call GRACE at 703-471-9242, or visit www.restonarts.org – click on "Festival." Reston Town Center, 11900 Market Street, Reston.