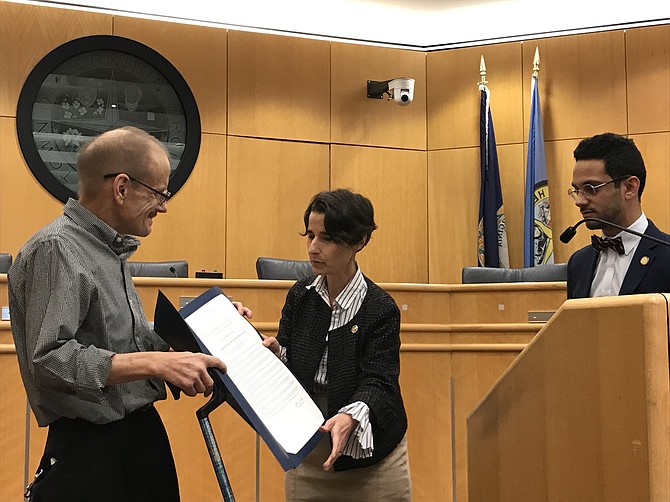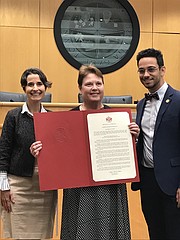 Sen. Jennifer Boysko (D-33) and Del. Ibraheem Samirah (D-86) held a Town Hall Meeting with constituents on Saturday, May 11, 1 -3 p.m. in the Herndon Town Council Chambers. The meeting started with the presentation of three commendations to people in the community who helped make it a better place, followed by an overview of legislative actions and a public comment period.
Boysko and Samirah presented HJ 511 commending Holly Seibold, the founder and executive director of BRAWS (Bringing Resources to Aid Women's Shelters). The non-profit organization distributed women's menstrual supplies, bras and underwear to women in shelters. Boysko said, "(The organization) has been a partner of mine as we have focused on the issues around menstrual equity."

Next, Boysko and Samirah presented HJ 503, a memorial resolution celebrating the life of Chief Warrant Officer Edwin Linek, USN, Retired to his son Mark Linek. Boysko and Samirah alternately read the resolution noting Linek's distinguished military career serving in the Korean War, joining the US Navy Reserves and retiring after "40 years with the rank of Chief Warrant Officer." They noted Linek's community service effort, volunteer services and receiving the Knight of the Year award from the Knights of Columbus.
The third resolution, SJ 450 commending NextStop Theatre Company went to Evan Hoffman. Boysko said, "Anybody who lives around Herndon knows of NextStop Theater. It is the really fabulous community theater that brings people together." Boysko added that the professional theatre company celebrated its 30th Anniversary.
The fourth and final resolution Boysko and Samirah presented commended Carol G. Jameson, Chief Executive Officer of Health Works Herndon for Northern Virginia. Together, the state legislators called attention to Jameson's leadership and work - "promoting the vision of health care for all."

DURING THE SECOND SECTION of the Town Hall meeting, Boysko and Samirah shared legislative actions in the 2019 Senate and House Sessions and looked ahead. Boysko spoke on a bill she introduced Senate Bill 1715 which lowered the sales tax to 2.5 percent on feminine hygiene products such as tampons and sanitary pads and incontinence diapers.
Speaking on another bill, Boysko said, "On behalf of the Town of Herndon, I carried a bill (which passed) that would allow us to create economic revitalization zones... so counties and cities have the ability to provide special tax incentives for bringing businesses in towns."
Boysko addressed a bill that modernized the legal notice publication system. "I worked with the Press Association over a number of years to make sure that there is now a website where the town can post their legal notices legally and let people know what's going on." Boysko also reviewed a bill "that found a way to share mental health information between counties so that inmates are treated effectively in jails," and another bill, Governor's amendment #33 that stopped courts from suspending a person's driver's license due to unpaid fines.
Samirah said that although he sat as a delegate for only one week, as a known medical provider, while campaigning, he learned many constituents wanted to talk about health care. "A lot of people wanted to talk about healthcare and about reducing healthcare costs and increasing healthcare quality... I'm at the forefront of that conversation, being the only doctor on the Democratic side. I will be doing my very best in that realm," he said.

Next, Samirah spoke about the environment. "We have a crisis at our hands, of taking care of our planet...but it's incumbent upon us on a local level...to reduce greenhouse emissions."
As for state education funding, Samirah said the formula calculation that uses the average income of an individual to calculate how much the state should give to each county needs to be changed to allow more money to come to Northern Virginia. Lastly, Samirah addressed transportation. He stated, "Transportation funding is extremely important; we do need more metro stops; we do need more lines."
DURING THE PUBLIC COMMENT period, Boysko answered a question about tax conformity, why it took so long." She said, "We actually were finally able to get tax conformity before the deadlines in April when you filed your taxes, this was a really high priority." Boysko explained that the federal government did not give them all the information until this winter. "Things will be different next year, and you will be able to do the deductions. We're changing the way the deductions are, but you're right, we didn't have time to do this full scope because we just didn't have all the details."
Boysko said she and Samirah wanted to make sure and say out loud, "Everybody is a constituent on both sides of the aisle. We represent everyone."
The legislators urged the audience to reach out to them with their concerns, thoughts and ideas. To contact Del. Ibraheem Samirah, visit samirah4delegate.com. To contact Sen. Jennifer Boysko, visit jenniferboysko.com.