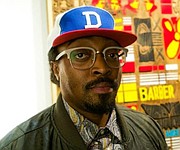 Olalekan Jeyifous will be the next artist to create a public art installation in Waterfront Park in Spring 2020.
Waterfront Park currently hosts the interactive installation Mirror Mirror, created by SOFTlab, a design studio led by Michael Szivos. Jeyifous will create the second work for the park as part of "Site See: New Views in Old Town." Selected by a task force and approved by the Alexandria Commission for the Arts, he's been commissioned to create a new and original site-specific work inspired by Alexandria.
"Through the Site See series, we're bringing engaging contemporary art to Alexandria's burgeoning waterfront," said Diane Ruggiero, director of the Alexandria Office of the Arts and deputy director for the Department of Recreation, Parks and Cultural Activities. "The public reception to Mirror Mirror has been so positive and we're thankful to Michael and SOFTlab for helping build a strong foundation. We can't wait to bring Olalekan to Alexandria for this next chapter."
Based in Brooklyn, Jeyifous has spent more than a decade creating large-scale artwork for public spaces. He was recently commissioned, along with Amanda Williams, to create the forthcoming monument for Shirley Chisholm in Brooklyn. He previously created public art at the 2017 Coachella Valley Music and Arts Festival in California, Cleveland's Public Square, and Starbucks' flagship store in Chicago.
As the first part of the process, Jeyifous will visit Alexandria and meet residents, gathering inspiration for a design to come in Fall 2019. The public is invited to meet the artist and learn about his creative process on Wednesday, May 22, 7-9 p.m. at the Crow's Nest at Blackwall Hitch on 5 Cameron St. in Alexandria. The event is free, but RSVPs are requested.
More information is available at alexandriava.gov/publicart and siteseealx.com.
Meet the Artist
Wednesday, May 22, 7 p.m.
Blackwall Hitch, 5 Cameron St., Alexandria