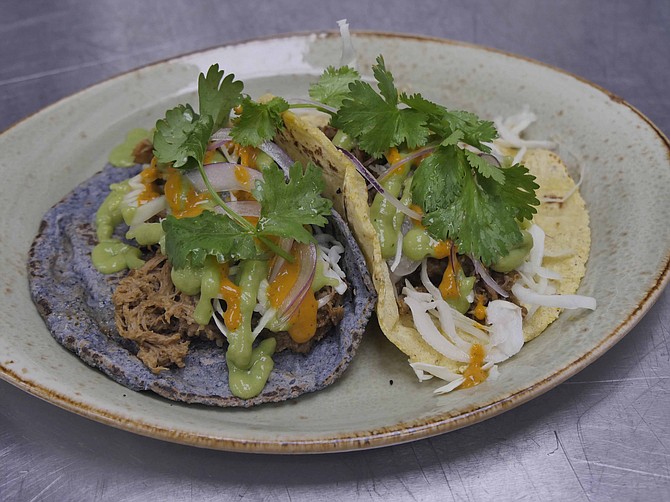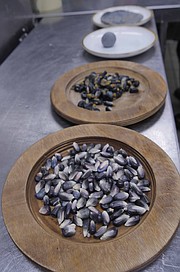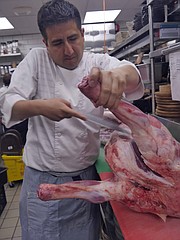 Chef Alam Méndez Florián carries a 40-kilo whole lamb in from the refrigeration room. He takes a hefty, carefully placed whack with his cleaver at the hind leg joint. In 20 minutes he finishes with the ribs and has butchered the entire lamb. Méndez will cook the pieces of lamb in its own juices for 12 hours at 120 degrees Celsius with a marinade.

"We prefer to cook it with the bones because it tastes better." Méndez remembers when he was growing up in Mexico that lamb was special for weekends when they would go have a "strong breakfast" and the lamb broth was good for hangovers "or so they told me." Méndez buys his lambs from Maryland, at least two a week.
Méndez has boiled (blue) cónico corn and then cooked it for 25 minutes at 92 degrees before letting it soak overnight in limestone water. He brings this corn from Oaxaca in Mexico as well as the bolita and the belatove. He says other kinds of corn are different than cónico and some soak less and take less limestone water.
This corn will translate into masa for tortillas. The corn he uses is 100 percent GMO free, but he says, in Mexico, few pay for the certificate that states it is organic. "We try to keep seeds and not lose them. GMO is less productive and more expensive, so farmers don't like to grow that way."
Méndez pushes the corn down a funnel into a large grinder, pouring from a pitcher of water to keep the mixture moving. A steady stream of cónico falls into the container below. "You have to watch your fingers or they will grind up with the corn." He says, "We don't add salt; we just pat this into tortillas. The 8 kilos of corn will make about 600 tortillas. We go through more than that in a day."
The tortillas are stacked high and, just before serving, the tortilla will be cooked on a hot grill for 45 seconds. "The tortilla has a thin side and a thicker side, and we put the filling on the thin side."
The kitchen is bustling as 11 workers rub shoulders passing through the maze between work areas and stovetop. One pours custard into small glass bowls; another marinates pork and another chops cucumbers and tomatoes. Méndez says the prep time early in the morning is the busiest as they ready everything for the day. "We make everything fresh here ourselves."
Méndez has prepared a marinade of red chilies, onion, garlic, cumin, oregano, cloves, salt and pepper. "Just to show you." He rubs nearly a quart of the marinade into several pieces of lamb and adds a little bit of water to steam it in the oven.
Urbano 116 has been open on King Street only a few months. Méndez says, "This isn't the same as what Americans call Tex-Mex but most of them like it." He says it is very different in Alexandria and Mexico, which is the food capital of the world and people come from all over to eat there. "They know the flavors of the different corn in their tortillas." But he does find in Alexandria that people who have been in Mexico want to experience that food again and others are willing to give it a try. Customers' favorites are the varieties of tacos and ceviches on the dinner menu.
He likes to combine local Oaxacan ingredients with what he can find here, and he creates daily or weekly specials. "I learned to cook from my mom. Her almond mole, her black and yellow mole — half of the menu items are my mom's recipes."
For the final touch Mendez arranges a purple and a white taco with edges wedged up against each other on the plate. Each is filled with a generous portion of shredded lamb and topped with shredded cabbage. A drizzle of avocado sauce, a drizzle of morita sauce (a little hot) and a bit of parsley for garnish.
Méndez received his culinary degree in 2012 and since then his culinary adventures have taken him to Spain, Guatemala, Denmark, Chile and back and forth to Mexico City. His restaurant in Mexico City received the award for the best restaurant in Mexico. "My idea with my culinary knowledge is to bring the Mexican flavors and the culture here."