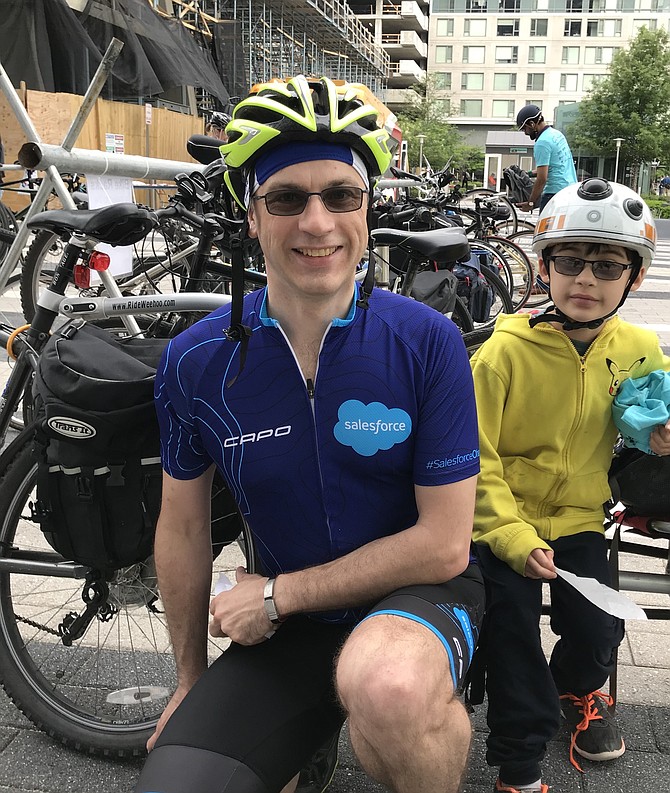 "There are so many places to cycle in Reston and Reston Community Center is bike-friendly," said LaTanja Jones, outreach director for Reston Community Center. She handled the RCC table at Wiehle-Reston East Metro Station during Bike to Work Day 2019. Held Friday, May 17, 6:30 a.m.-9:30 a.m. on the Plaza at the Reston Station, cyclists received a free T-shirt, enjoyed light refreshments, could win door prizes every half hour and were entered into a raffle for a free bicycle.

Reston Association hosted the pit stop on behalf of organizers Commuter Connections and the Washington Area Bicyclists Association (WABA). At the Reston stop, riders from surrounding communities arrived to start their day, wheeling to work or to put their bikes on the Connector bus and ride to another Metro Station. Jennifer Douglas of Falls Church Fairfax Connector showed cyclists how to secure their bikes on the bus rack and reminded them always to flip the rack back up when removing their bikes. According to Fairfax County, the annual celebration was meant to increase awareness and expose people to the benefits of bicycling to work or to transit.
Indrajit Aich worked in Reston and stopped to pick up his t-shirt "This is my first time cycling to work. I didn't know biking could be so rewarding. I'm planning on biking every Friday, except in the rain."
Father/son team Ian Macdonald and Callum, 8, of Herndon, rode into Reston just for the fun of it. "I like to commute with Callum to his school, Lake Anne Elementary as much as possible. It's about a three-mile ride. Then I go back home. We've done 2000 miles of cycling together," said dad Ian. "I think it's fun to ride, said Callum.
The Bike Team for Fairfax County Police Department Reston District Station stood ready, MPO B. McMahon, Second Lt. Matt Dehler, PFC L. Hopson, PFC D.A. Rocco and PFC M. Duffy. "Fitness is an everyday commitment. Look for us on the trails. Reston's had a bike team for 20 years," said Second Lt. Matt Dehler.