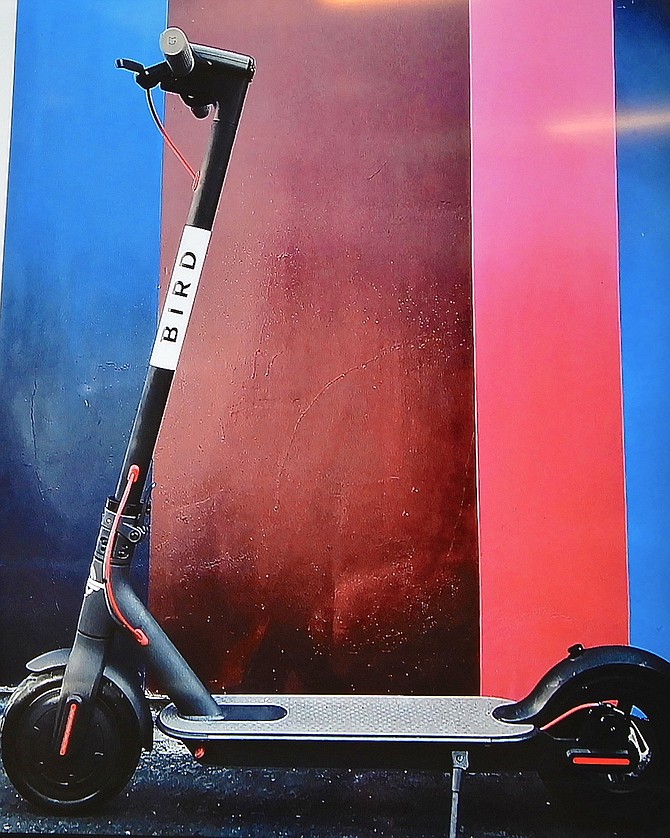 Get ready – electric scooters, more commonly called e-scooters, are coming to Fairfax City. During last week's meeting, the City Council voted unanimously to establish a one-year pilot program allowing dockless shared mobility companies to operate here.
It will run from July 1 to June 30, 2020, with permit applications due May 31. And at least two companies – Bird and Lime – have already expressed interest in participating.
It's also a proactive move by the City, because the Virginia General Assembly recently adopted a bill allowing localities to regulate these devices. It also states that, as of Jan. 1, 2020, jurisdictions that haven't enacted an ordinance doing so will have to let them operate unregulated.
So at an April 9 work session, the City's multimodal transportation planner, Chloe Ritter, told the Council, "We propose a one-year pilot program covering the entire City, so we can see how it operates in the neighborhoods and in the various activity centers."
According to the new state legislation, the scooters must be less than 100 pounds and have a maximum speed of 20 mph. Parked vehicles may not impede pedestrians or other traffic, and lights are required. No one under age 14 may drive them without supervision.
AT THE WORK SESSION, Reid Teschner with Bird's government partnerships division, and Maggie Gendron, Lime's director of strategic development, gave presentations about what their companies have to offer. Gendron brought a scooter for the Council to see in person.
"We bring affordable, transportation options to people in over 100 cities worldwide," said Teschner. "Riders scan the QR code on their phone to unlock the scooter. We want riders off the road by 1 a.m., and we provide safety tutorials." He also said e-scooters are environmentally friendly because they decrease car usage, traffic and carbon emissions. They also reduce parking problems and increase access to transportation in underserved areas.
With Bird, riders use its smartphone app to find the closest Bird scooter on a map, unlock it and ride to their destination. Meanwhile, full-time "Bird watchers" scan every scooter for maintenance issues, remove damaged ones, realign and remedy parking issues and educate the community on proper usage.
Bird, which began in 2017, also offers in-app tutorials which all Bird users must take before their first ride. And it hosts safety events to provide free helmets, rider demos and safety tips. In addition, Bird has trained chargers in localities where it operates. These people collect the scooters for charging and then leave them at predetermined "nest" locations for the next riders to use.
Gendron said Lime also started in 2017 "to help people move away from single-car occupancy and think of us as another option. And we, too, have a full-time, operations and maintenance team and people to recharge the vehicles." She said how to appropriately stage parking can be a challenge, and she also noted the importance of educating the public about safely riding e-scooters.
"We have over 15 million riders in 130 cities around the globe," said Gendron. "And they tell us they overwhelmingly prefer to ride in protected spaces, such as bike lanes. We also try to be as green and sustainable as possible. And according to a survey of our U.S. riders, 50 percent live in households earning less than $75,000 a year, 33 percent are female, and 25 percent are age 37 or older."
Councilwoman So Lim asked what would happen if someone left their scooter in the middle of the street. Teschner said they'd have a live feed showing where it was so they could get it. "We require riders to take photos of how they parked, or the ride won't be able to end, because we don't want scooters left in the rights of way."
Lim then asked how many miles a charged scooter can go, and he said, "Thirty miles, but our technology is always evolving."
"For me, this is exciting," said Lim. "I could use one to go home from work at night."
Councilwoman Jennifer Passey asked if the City's streets are ready for e-scooters, and Transportation Director Wendy Sanford said she believes they are. "A pilot program would help us get this information and see where problems are and the specific routes people are taking," explained Sanford. "Then we can prioritize where to make improvements, if necessary."
BOTH BIRD AND LIME e-scooters cost $1 to unlock and 15 cents/minute to ride. They also offer special prices for military veterans and lower-income riders. Gendron said Lime's average rider spends $3.80/ride.
Councilwoman Jon Stehle said he hoped the program would entice GMU students to come to downtown Fairfax to "dine, play and shop, and stop ordering food from robots." Then at its May 14 meeting, the Council officially approved a pilot program.
First, though, Ritter presented the legal details and the Council discussed them.
She said the companies would each pay a $5,000/year permit fee, plus a right-of-way use fee of 5 cents/mile. To obtain a permit, they must: get a City business license, share their user agreements, have insurance, have their scooters inspected and safety-compliant, have safety and operations response plans, and have an operations center and customer-service resources in the Washington, D.C., region, including a live person to call on the phone.
Companies must also maintain ongoing communication with the City, submit a community-engagement plan, do community education, have a maintenance and recharging plan, also coordinate with Fairfax County and GMU, and share their data, including trip data, so the City will know where people are riding, plus any accident information.
In return, the City will: Review permit applications, test the scooters before deployment, respond to citizen comments, establish preferred-parking corrals for the scooters, monitor usage data, conduct neighborhood research, and communicate with residents, businesses and the scooter vendors about the program. Fairfax will also create a Web page listing the scooter companies and giving information about, for example, where people can ride and park and if they need helmets.
"The City would do ongoing outreach to the community to get feedback about the program," said Ritter. "We'd also collect data throughout the year regarding the total trips, trips per device, start-and-end locations and routes, user demographics and types of trips."
She said police and EMS reports would help Fairfax track any incidents. The City would also track the community impacts – whether local businesses benefited and if riders parked where they were supposed to.
Lim asked if the companies would control the speeds, and Ritter said the scooters have speed governors for 15 mph, but they can go 20 mph. Ritter also noted, "We're not capping the number of companies, just the number of scooters per company – 250. These are supposed to be ridden in bike lanes, on the streets; City code currently doesn't allow scooters on sidewalks."
"We're focusing on e-scooters," said Councilman Michael DeMarco. "Do we expect bikes to follow?"
"The companies say dockless bikes aren't profitable – people aren't riding them as much," replied Ritter. "And e-bikes are more expensive." She also said the Economic Development Office is helping determine the parking-corral locations in Old Town. Other locations in the City would be identified, over time.
Passey asked how the driving rules would be enforced, and Ritter said people would get ticketed for operating unsafely. "If people ride their scooters unsafely, and consistently violate the rules, how will we get this data?" asked Councilman Sang Yi. Ritter said the police and EMS personnel would share their incident reports with the City, and residents would report parking issues.
"What will be our metric for something passing our test?" asked Yi. "The number of injuries?" Ritter said they'd see how other jurisdictions measure it, for example, the number of scooter injuries vs. the number of car injuries.
Scooters aren't currently allowed on park trails, but Councilwoman Janice Miller said she'd be open to it "since we have limited bike lanes. This is an interesting opportunity, and I look forward to this program. It's a classic example of emerging technologies, new business models and their intersection with communities. I think this is a prudent first step."
The Council then unanimously approved establishing the pilot program, with City staff determining the number of companies to approve for it.