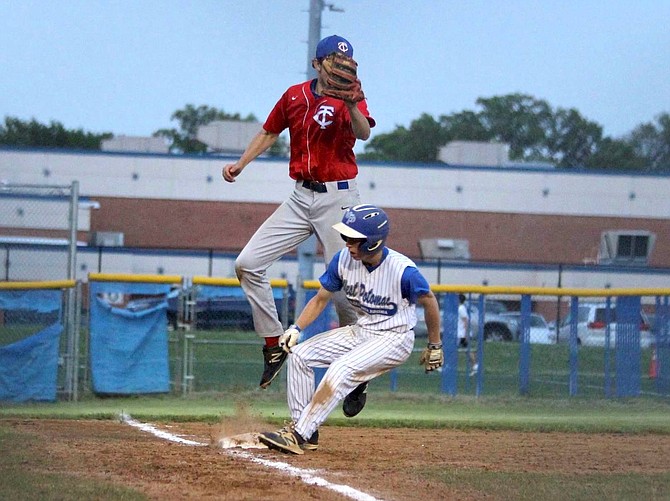 The West Potomac baseball team defeated T.C. Williams 9-0 on Friday night, May 17, to claim the Gunston District title for a second straight year. As last year's actual championship game was rained out though, this was the first time in 31 years that the Wolverines actually got to win the title on the field.
In the game, the Wolverines' senior right-handed pitcher Jimmy Curley threw a complete game 3-hit shutout, while striking out 15 and walking none. He threw 14 balls in 7 innings for an 81.6 percent strike performance.
Offensively, West Potomac was led by Justin Bassett (2 RBIs, 3 stolen bases, 2 runs), Jacob Trumbo (2 RBIs), and Liam Airey (1 RBI, 1 run, 1 double), who each contributed 2 hits.
The play of the game was in the bottom of the third inning as West Potomac had just taken a 2-0 lead. Jack Bachmore's hustle on a 2-out grounder to shortstop resulted in an errant throw into the runner which led to a collision, an error, a run scored, and an injury to the Titans' top player Nathan Keough causing him to have to leave the game. The inning extended, West Potomac tacked on 2 more runs to lead 5-0.
With a record of 15-5, this West Potomac squad has guaranteed itself of being no worse than the second best team in school history as it tries to negotiate a Occoquan Region bracket that will likely have them trying to defeat old Patriot District foes Robinson, Lake Braddock, and West Springfield in succession. These are the same three teams — in the same order — that they beat in 1994 to win the program's only Northern Region tourney title on their way to the state final that year.
Wolverine coach Jimmy Linza is now the last coach to win a title at West Potomac (2019), Hayfield (2011), and Mt. Vernon (2004). West Potomac will open Regional play on Friday, May 24 at 6:30 p.m., hosting the winner of Tuesday's Hayfield-Robinson contest.