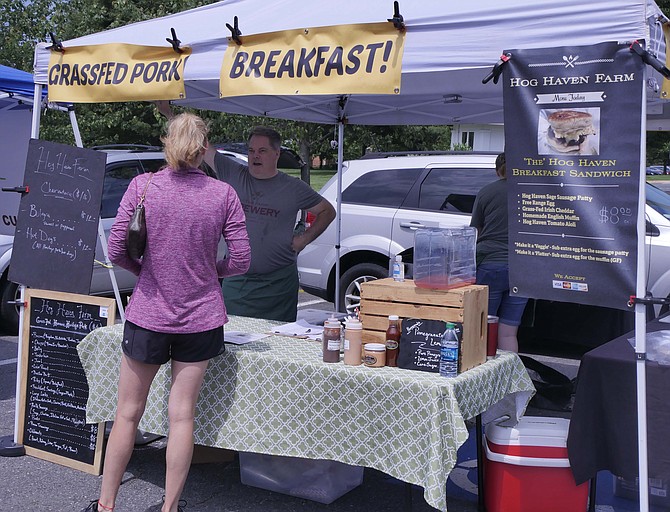 Nothing says the beginning of summer like the vegetables piled high, the tastes of Turkish borek, and the cups of passion fruit juice at the Marymount Farmer's Market on Saturday, May 25.
Stephan Cunningham, market manager, says some of the stalls haven't set up yet this year since it is Memorial Day weekend. "We have a new cheese vendor and a new Belgium waffle stand with a different Turkish vendor and a new vegan baking stall, a little bit wild."
He continued, "The goal is to have music every week but this week our music cancelled. But," he said pointing to the Marymount Market information stand. "I have Nick Rozek. I call him my emergency music man."
Rozek says, "I'll show up at the last minute and play folk songs on my guitar."
Ana's Twist has sold out of her oven baked chicken, beef and vegetarian empanadas by 11 a.m. "My customers came back from last year and told me how much they missed my food. I didn't make as many this time because it was Memorial Day. "I ran out of my soup and my sorbet, too." Her large container of hand-squeezed passion fruit juice is almost empty.
Ana says she is one of 36 people selected from around the world to compete in a D.C. gelato festival in September. "The ice cream makers are coming from all around the world — Japan, U.S. and Europe." Her entry will be colada morada, a specialty from her home country of Ecuador.
The hot breakfast stand is doing a brisk business with homemade sausage, egg and cheese biscuits on fresh made English muffins while customers are ordering ice lattes reflecting the heat of the day. Joe Keyes is loading his bag with radishes, zucchini, kohlrabi and beets from J&W Valley View Farm.
The Marymount Farmer's Market is open Saturdays from 9 a.m.-1 p.m. from May 25-Nov. 23.