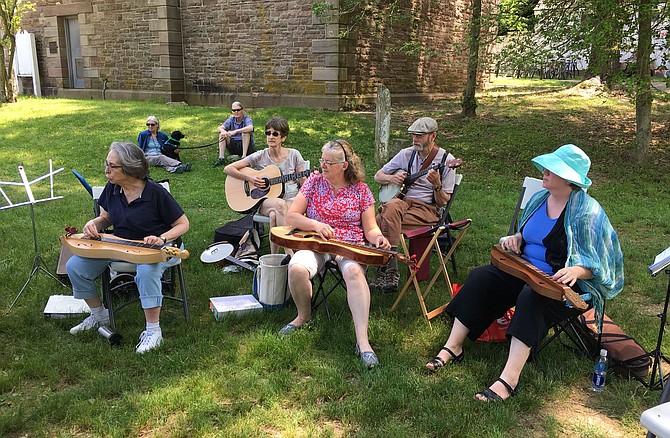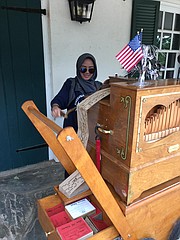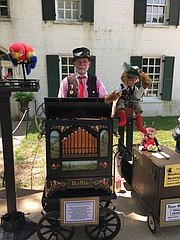 Visitors to Great Falls Park this past weekend were treated to the Chesapeake and Ohio Canal National Historical Park's first Spring in the Park, planned to be repeated annually.
Saturday's events, Mules, Music and More, featured Dolly, one of the mules that pull the Charles F. Mercer canal boat. Dolly was just back from her winter at Mount Vernon in Virginia, ready to greet visitors, especially the children who couldn't keep from petting her and asking Ranger Mark Myers questions about Dolly and the other mules who will summer at Great Falls.
"She came to meet her adoring public," Myers said.
Emily Warren, 8, and her sister Caroline, 5, of Washington, D.C. were at the park for a hike with their parents. Dolly took a good bit of their planned hiking time.
It was Caroline's first time to see a mule – the offspring of a horse and a donkey.
"At first I thought it was a horse," she said. "I figured out it was a mule."
Emily had her own thoughts about Dolly and other mules.
"Mules are docile creatures," she said. "They might not be obedient, but they are very smart and friendly."
Saturday would have been the first day for the Mercer to set off through Lock 20, in front of the Tavern, and up the canal, while riders learned about life on canal boats that used the canal between Georgetown in D.C. to Cumberland, 184.5 miles west.
Unfortunately, the Mercer will not be sharing floating history lessons until late this summer. Work on locks below the Tavern was delayed by the federal government shutdown, and the weather, and the canal does not have water.
"You can't float the boat unless you have water," said Elizabeth Harrison, whose husband Donald is president of Friends of Historic Great Falls Tavern. The Friends are the group that donated money to have the Mercer, a replica canal packet boat, built on 2006, Elizabeth Harrison said.
Adding to the festive atmosphere outside the Tavern was music by the Northern Virginia Mountain Players.
Three dulcimer players backed up by two banjo players played music and answered questions about their instruments. They had two dulcimers that visitors could try to play along with the "professionals."
Also included on Saturday, were tents from Leave no Trace, The C&O Canal Trust and an initiative called BARK, spelling out rules park visitors need to know when visiting with their dogs.
Sunday was another day of learning at the park.
Visitors were greeted by the sounds of an organ grinder, Terry Bender, playing music on a Raffin Street Organ from Germany.
Bender and others, playing at different sites around the Tavern, are all members of the National Capital Chapter of the Music Box Society.
"Its happy music," Bender's wife Jan, said.
Bender's organ had a stuffed monkey attached, as did all the others on display.
"Monkeys [and other animals] were used in the old days because organists were mostly beggars," Jan Bender said. "Monkeys would attract attention and hold the cup [for listeners to drop money in]."
Cheryl and Richard Hack, of Annapolis, demonstrated a crank organ and let passersby try for themselves.
Exchange students Balqis Maharsiwi, 18, from Indonesia, and Anna Furic, 15, from France, tried.
"At first, I was [turning the crank] too slow but found the perfect speed and I liked it," Furic said.
Monday, the Festival wound down with a typical day at the Park, the tavern was open with displays and games for visitors and Park volunteers available to answer questions or point hikers to the different trails around the Tavern.
Pete Petersen, Supervisory Park Ranger at C&O Canal National Historical Park, said the Spring Festival was planned by the Park staff to group many traditional events together for visitors to enjoy.