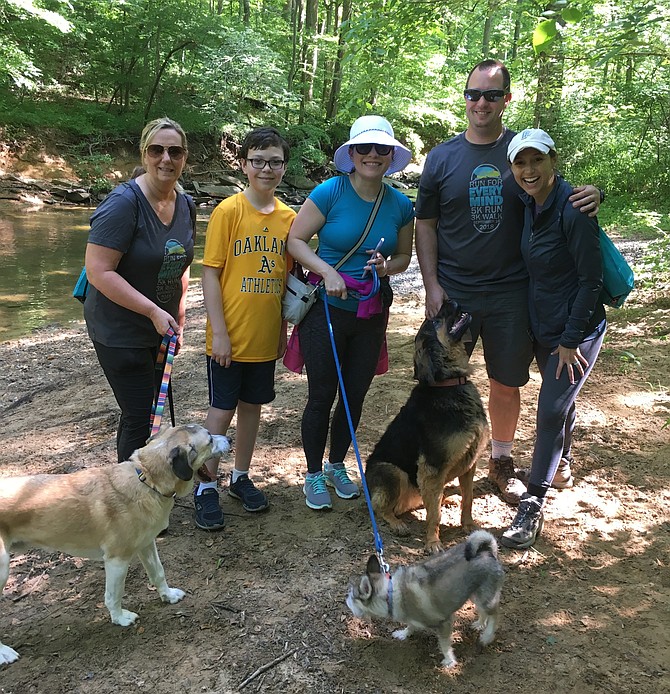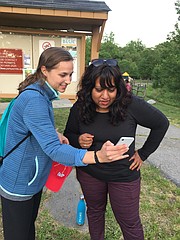 Lauren Strawbridge walked the trails of Cabin John Regional Park Sunday.
Not an unusual thing to do on a warm Sunday morning, but Strawbridge was walking for a purpose: to help break through the silence associated with mental illness.
Strawbridge, of Boyds, has been walking the park trails of Montgomery County during the month of May, Mental Health Awareness Month.
Her goal is to walk most of the 250 miles of Montgomery Parks' hiking trails this month as part of a partnership between EveryMind, formerly the Montgomery County Mental Health Association, and Montgomery Parks. She also hopes to raise money for EveryMind and the Montgomery County Crisis Hotline.
This is Strawbridge's second May walking for mental health issues.
Last year she walked most of the length of the C&O Canal, 184.5 miles.
"Some of it was closed for repair so I couldn't do it all," she said.

Last year, she said, she hoped to raise $1,000 during her canal walk. She raised over $2,300.
"This year I aimed for $2,400 and I am almost at my goal." she said.
The walk this year has morphed, she said. Last year it was mostly solo, a time for reflection.
"This year I decided to keep it close to home to call attention to the Crisis Hotline," she said. "We are underfunded and overused."
Strawbridge, 30, is a board member of EveryMind, so she knows the need. She also has bipolar disorder which has been managed for five years and has used the Crisis Hotline, she said, so she understands that need too.
But that goal, too, has somewhat morphed.
"Now my goal is to form lasting relationships with the people who meet up with [me] as I walk," she said. "If the subject of mental health comes up, let's explore that."
Other EveryMind board members and staff as well as Montgomery Park employees have walked along with Strawbridge.
Last week she walked at Fairland Recreation Park in Burtonsville. Joining her was Karishma Sheth, chief program officer at EveryMind.
The walk included conversation about the importance of removing the "invisibility" from mental illness.
The "S-Word" of mental health is Silence, they said.
"The more people who share their stories, it gives others [permission] to talk about mental illness," Sheth said.
Sunday at Cabin John Regional Park there was a larger group. Strawbridge's husband, Matt Strawbridge was there with their dog Mila; Ann Mazur, CEO of EveryMind and her dog, Baloo, joined the group as did EveryMind board member Emily Rosado, her son, Gavin Ros, 13, and their dog Nina.
With only a few days left in May, Strawbridge is sometimes walking two or three trails a day.
"It feels good," Strawbridge said.
Matt Strawbridge agrees.
"The outdoors can help people struggling with anxiety and stress," he said.
To learn more about hiking on Montgomery parks trails visit www.MontgomeryParks.org
To donate to Strawbridge's fundraiser, visit runsignup.com/writeboldly.