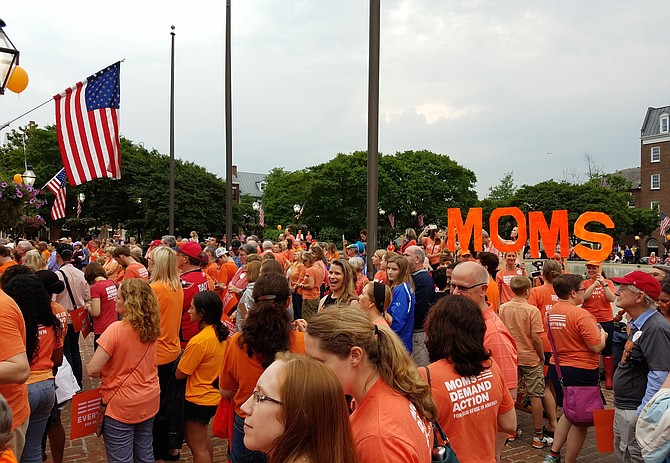 Wear Orange events and #WearOrange activities are being planned for National Gun Awareness Day, the first Friday in June.
These are coordinated grass-roots efforts by the volunteer-driven, nonpartisan nonprofit Moms Demand Action for Gun Sense in America, which has chapters in every state and the District of Columbia.
Alexandria's local chapter will hold its third annual Wear Orange rally, considered its signature event, at Market Square, 301 King St., on Friday, June 7 at 7 p.m.
"Our Wear Orange rally is about our community coming together, making a resounding statement that gun violence is an epidemic that we know how to solve and that we will solve together," said Carlos A. Gutierrez, community outreach lead for the organization's local chapter in Alexandria.
Orange became the defining color of the gun violence prevention movement after the death of Hadiya Pendleton who was shot and killed in Chicago at the age of 15, one week after performing at President Obama's second inaugural parade in 2013. Her friends asked the public to stand up, speak out and wear orange, Hadiya's favorite color, to raise awareness about gun violence.
Galvanized by that, Alexandria's chapter has been "honoring loved ones lost, raising voices of survivors and communities disproportionately impacted and responding to the call of action to prevent gun violence," Gutierrez said.
Hundreds have supported the Wear Orange rally — not only community activists but also responsible adult gun holders who back the Second Amendment. Students, businesses, faith leaders, sororities, friends and family are also behind the 2019 effort, including Students Demand Action: Bishop Ireton Chapter, Alfred Street Baptist Church, Christ Church, Del Ray Pizzeria and NOVA Pride, among many others.
"We are advertising the rally and raising the issue in social media," said Jonathan Krall, co-founder of the advocacy group Grassroots Alexandria. "We support Mothers Demand Action for Gun Sense so that they will keep up the effort."
According to Gutierrez, Moms Demand Action for Gun Sense in America have a track record of federal and state legislative accomplishments, such as the House passing H.R. 1112, a bill closing the "Charleston Loophole" that allows licensed dealers to sell a gun after three business days even though a background check has not been completed. It is called "the Charleston Loophole" since this loophole was responsible for a shooter obtaining a gun in 2015 he used to kill people at a historically black church in Charleston, S.C.
The Moms Demand Action for Gun Sense in America nonprofit has also secured appropriations for new CDC and NIH funding for gun violence research, and developed a training program called Be SMART focused on storing firearms appropriately and other simple steps to reduce the number of gun-related deaths, suicides and accidents by youth aged 17 and under because they have access to a firearm.
The work doesn't end there. "Everyday there's another horrible event. Gun shootings," said Janet Murphy, of Grassroots Alexandria. "Rallies are a way to come and support and a way to stand up against gun violence."
For more information on Alexandria's Wear Orange rally at Market Square, go to: https://act.everytown.org/event/wear-orange-2019/22068/signup/?source=&akid=&zip=.