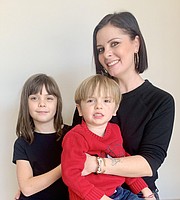 New York-based entertainer Mario "the Maker Magician" Marchese appeared at McLean's Alden Theatre on Saturday, Nov. 3, as part of a national tour. Recognized for his dedication to the maker and the STEAM movement (science, technology, engineering, arts, and math), Marchese combines his own inventions of robotics, electronics and upcycled props with a new and cool kind of vintage slapstick magic. Hailed as "the best kids' musician in the world," by fellow magician David Blaine, Marchese has appeared on Sesame Street and NBC Universal's Sprout channel.
Marchese's magic career started by chance, when he was 22, by "stumbling into a magic shop, thinking it was an antique store," he said. "That small accident changed the course of my life," said Marchese.
After performing for a few years on the side, the magician went full-time with an occupation that he loved, entertaining family audiences and incorporating STEAM into his shows. "I build all of my props using cardboard, 3D printing, programming, and sensors. The show's purpose is to get kids excited about making," said Marchese. "We are trying to start a new video series, making magic tricks at home for kids of all ages, using programming and 3d design and printing," he said.
The innovative magician travels with his wife and manager, Katie, and his two young children, Gigi, 8, who often helps with tickets and merchandise, and Bear, 5, who loves greeting audience members and even helps clean up after shows.
Having made his inventions become reality with hard work and patience, Marchese is optimistic towards the future. "My dream would be to land on Broadway in NYC," he said. Marchese says that he undoubtedly hopes to come back to perform in McLean. "This is our first time in the area. We hope to explore and see new things, make new friends, then come back again and again," said Marchese.
For more about the Alden Theatre, visit www.mcleancenter.org
To learn more about Mario the Maker Magician, visit www.mariothemagician.com