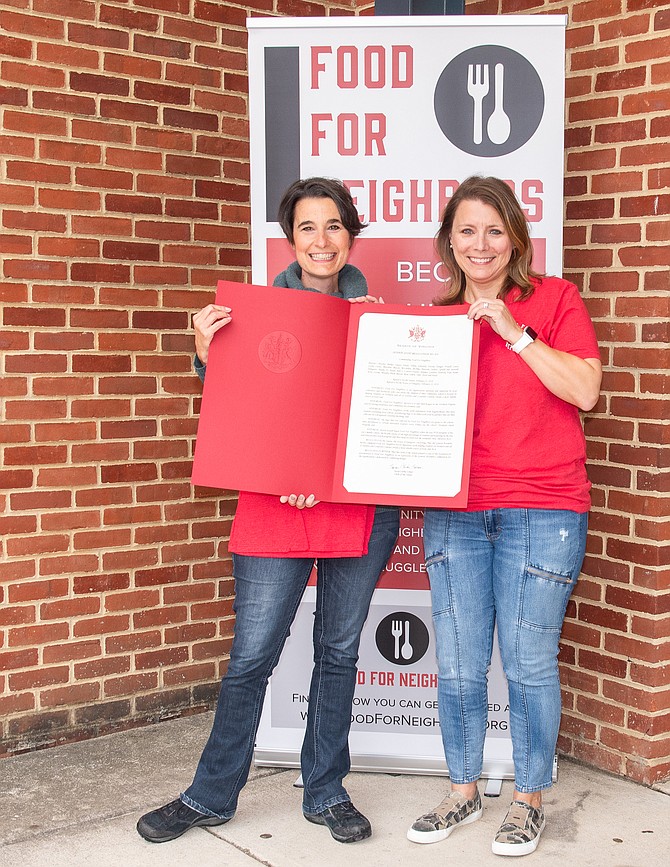 Food For Neighbors recently received a visit from State Sen. Jennifer Boysko, who presented the nonprofit with an official commendation from the Virginia General Assembly. The General Assembly recognized Food For Neighbors for its efforts in combating hunger, more specifically, for providing Fairfax and Loudoun County students with a more reliable source of food.
"I thank Senator Boysko and other State leadership for this important expression of support," said Food For Neighbors founder Karen Joseph. "I'm thrilled that the Food For Neighbors message is reaching more people, and, with the help of many dedicated volunteers, I hope to see the program continue to expand."
An all-volunteer charity, Food For Neighbors has rapidly grown from serving more than 100 students at Herndon Middle School and Herndon High School, to serving nearly 1,000 students weekly.
The program now supports additional schools in Fairfax County, including Irving, Key, Jackson, Whitman, and Carl Sandburg Middle Schools as well as West Springfield, Lee, Bryant, Mountain View, West Potomac, and Mount Vernon High Schools. The program has moved into nearby Loudoun County schools including Sterling Middle School, Park View High School, River Bend Middle School, and Potomac Falls High School.

Food For Neighbors also provides supplemental food to Langston Hughes Middle School and the South Lakes High School food pantry.

Food For Neighbors thanks all of its community partners, sorters, drivers, and food contributors, who leave donations on their doorsteps in the well-known Red Bags for collection just a few times per year. To learn more and get involved, visit https://www.foodforneighbors.org/get-involved/. Hunger is closer than you think.