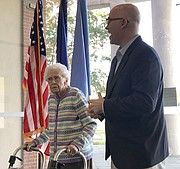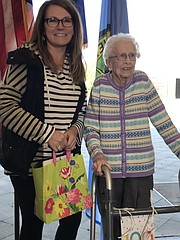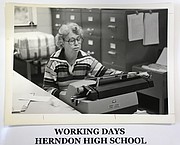 Turning 100 years old is one of the most significant milestone birthdays. How the Town of Herndon's newest centenarian achieved it involved God, family, community and chocolate. To mark the special birthday occasion for Maryana Gillette James, born Nov. 1, 1919, in the Town of Herndon and still residing there a century later, family, friends and her church family kicked off a two-day surprise celebration.
The festivities began with the presentation of a "Mayoral Proclamation Recognizing Maryana Gillette James Day, November 1, 2019." Held in the Herndon Municipal Center, James' pastor, Sean Roberds of First Baptist Church of Herndon, spoke first and addressed James personally. "It is an incredible honor to be your pastor. You are a saint…you have been here for this entire community and me, and I am thankful we can be a part of this celebration." Mayor Merkel joined Roberds, and with James by her side, family, friends, councilmembers and town staff listened as Merkel presented the proclamation to the town's newest centenarian, born on Grace Street in Herndon when the town was part of the local dairy community.
"Throughout her life, she has kept a long-standing connection to the Town of Herndon and the surrounding area. She grew up in Herndon, always maintained a Herndon address and currently resides on Van Buren Street. In 1936, James graduated from Herndon High School. Mrs. James worked for the Fairfax County School Board for 25 years and was a secretary to the principal of Herndon High School when she retired," Merkel read. James' father, Edgar Eugene Gillette, was mayor from 1925-1929, and her husband, Graham M. James, Jr., mayor from 1957 to 1961, added Merkel.
"Over the past 100 years, Maryana Gillette James has witnessed a lot of changes in the town. She is an integral part of the Herndon community, and Herndon is a better place because of her contributions. Therefore, the Mayor of the Town of Herndon, Virginia, hereby proclaims November 1, 2019, as Maryana Gillette James Day in the Town of Herndon, and thanks her for being an excellent representation of the Herndon community," said Merkel. After the presentation Merkel turned to James, "You know, it's never too late for you to run for mayor," she said.
Later, when asked for her advice on how best to live a long and happy life, James responded, "First, have faith in God; second, be loved by family, many friends and a strong church family; third, have a happy marriage with loving memories, and fourth, eat lots of chocolate, little sugar and a few leaves of spinach each day."
Congratulations and special memories poured in from family and friends present at the Proclamation Ceremony and during James' 100th Birthday Celebration held at First Baptist Church of Herndon the next day.
Viewpoints
Community Members About Maryana Gillette James
Sean Roberds, Pastor at First Baptist Church of Herndon, praised Maryana Gillette James "first, for her dedication to a life of faith; second, for still counting the money for the church and attending worship every week and third, for the way she welcomed my youngest son, Eli, into her adult Sunday school class."
Todd and Linda Weiss: "We can't begin to say all we feel about Maryana – for over thirty years she's been an inspiration to all."
Linda Dhar, Sunday school teacher: "I met Maryana when she was in her 70s. At that time, you had to move out of the way. She walked so fast. Twenty-five years later, it hasn't changed. She's still quick on her feet."
Lody Ashwell: "I have known Maryana since 1956. She has been a very special friend and one of the most loving ladies I have ever known."
Richard Downer: "Ms. James' husband, Graham James, was my first partner. He and Bill Hoofnagle hired me in the late 1960s to be the insurance man of Herndon Realty & Insurance. It is a pleasure to see Ms. James again and help her celebrate her 100th birthday."
K Scarry: "Maryana has been my friend my whole life. She made me my baby quilt when I was born."