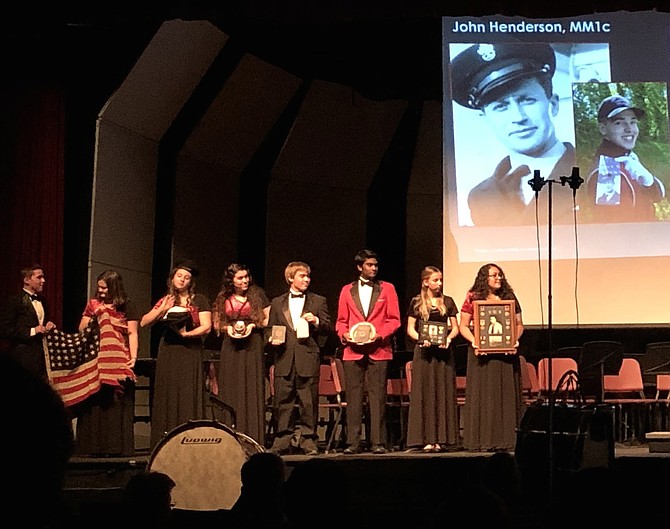 The Herndon High School band program's annual Tag Day concert held on Nov. 6 had a little bit of everything. With Veteran's Day just a few days later, one of the highlights of the night was a Proclamation given to the HHS Marching Band (Pride of Herndon) from the Town of Herndon, in recognition of the Pride's participation in the commemoration of the 75th anniversary of D-Day in Normandy in June, 2019. In addition, the band director, Kathleen Jacoby, was commended for her dedication and for leading the Pride of Herndon in this event.
Also honored was band parent Margaret Jamborsky, who dedicated thousands of hours researching the USS Herndon, the first ship to breach the beach on D-Day. Jamborsky also created a moving video of the Pride's time in Normandy, shown as part of the concert.
Finally, the band presented the Herndon Historic Society with several artifacts donated to the Herndon Museum by the families of veterans (and in some cases, the veterans themselves) of the USS Herndon. These included medals and dog tags, uniforms worn by the crew of the USS Herndon and the first U.S flag to fly over German occupied territory on D-Day.
And then there was the music. The Symphonic Winds played three unique adaptations of various multi-cultural arrangements, and the Wind Ensemble played Gustav Holst's First Suite in E-flat, then a fascinating adaptation called Suite Dreams. The Wind Ensemble closed with Robert W. Smith's "12 Seconds to the Moon" – while images of space travel and the Wright Brother's first flight at Kitty Hawk played on the wall.
The show closed with the full Pride of Herndon Marching Band lining the walls of the auditorium to play their 2019 show, Heroes. Full of energy and spirit, the band brought down the house.
If you missed it, here are other opportunities to see band members in action this year:
Dec. 7 — Herndon Tree Lighting
Dec. 18 — Winter Concert