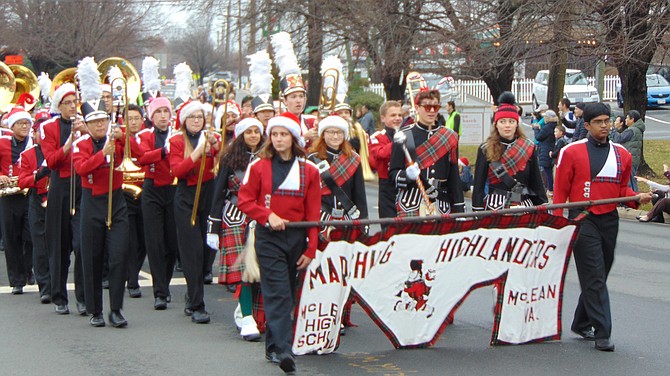 McLean's WinterFest Parade marks the beginning of the holiday season on the first Sunday of December. Donations from local businesses and organizations cover the cost of the parade plus a donation each year to Share of McLean. This year, WinterFest will salute Grand Marshals Sharon Bulova, chairman of the Fairfax County Board of Supervisors and Janie Strauss, Fairfax County School Board member, both retiring after 30 years of dedicated service to Fairfax County and its residents.
Join in the festive joy and fun at the 11th WinterFest Parade, Saturday, Dec. 1, 2019, as a parade entry, an attendee, a donor, or a volunteer. WinterFest parade entries include students and scouts to professionals, young and old, with color, costumes, and music celebrating the start of the holiday season. To review parade guidelines and register your business or local organization, visit: www.mcleanwinterfest.org. Donor forms for those who wish to contribute to the parade's success also can be found on the website.
McLean's WinterFest Parade begins with pre-parade festivities at 2:30 p.m. at the reviewing stand at Langley Shopping Center and will include performances by the McLean Baptist Hand Bell Choir, Kent Gardens Elementary School chorus, Langley High School Madrigals and the McLean Youth Orchestra's brass and wind ensemble presenting a medley of holiday favorites (mcleanyouthorchestra.org).
McLean WinterFest welcomes back Master of Ceremonies Peggy Fox, as the parade kicks off promptly at 3:30 p.m. and moves through the streets of McLean from Elm Street and Beverly Road, to Old Chain Bridge Road, the main parade route. Handicapped seating will be available in front of the McLean Baptist Church as well as parking in their lot across the street from the activities. Before, during and after the parade, enjoy Mama's Donut Bites and Rocklands BBQ.
Support and funding for the WinterFest Parade is 100 percent volunteer and voluntary contributions from local businesses and individuals. Current and past sponsors can be found on the website http://www.mcleanwinterfest.org/. Entry registration will be accepted through Nov. 22.

For more information about this event, please visit: mcleanwinterfest.org or contact Trish Butler at 202-550-4019 or sagecommunications@earthlink.net.