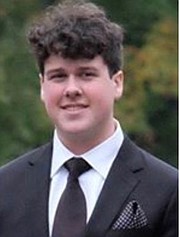 Carter Scott Smith, 17, of Reston, died Nov. 3, 2019 as a result of injuries sustained in a motor vehicle accident. He was born July 8, 2002 in Reston, the son of Scott and Elizabeth Gilbert Smith. He was a junior at South Lakes High School.
He loved playing video games, swimming in the ocean for hours, playing basketball, and riding his longboard with friends around Reston. Carter was intelligent, sensitive and determined. His sense of humor kept his family laughing, and guessing, all the time. He will be truly missed and will forever live in the hearts of all who knew him.
Carter is survived by his parents, Scott and Elizabeth of Reston and his sister, Lily. The first grandchild, he is also survived by his grandparents: Lance Gilbert, Joyce Summers, both of Reston; John and Karen Smith, of Hickory, N. C., Linda and Roland Floan of Cornelius, N. C. Also, cousins Julia, Simon, Daniel, Robbie and Alexander as well as many aunts, uncles and extended family. Additionally, he is survived by countless close friends in the Reston and broader communities.

Funeral arrangements are being handled by the Adams-Greene Funeral Home in Herndon. In lieu of flowers, donations may be made to Cure NF with Jack (https://www.curenfwithjack.com/donate/). Please note, 'In honor of Carter Smith'.