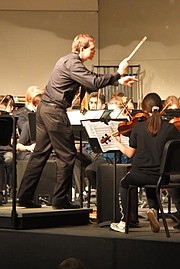 The Langley High School Orchestra was joined by the James Madison University Orchestra during their performance on Wednesday, Nov. 13 in the Langley auditorium. The Side by Side concert presented music that was played by the JMU Orchestra, the Langley High Orchestra, and pieces that were performed by combinations of both orchestras. The students were directed by the JMU Director of Orchestras, Foster Beyers, the Langley Orchestra Director, Dr. Scott McCormick, the Langley High Assistant Director, Adam Willett, and a JMU graduate assistant, Colton Henry.
"I really enjoyed my experience here at Langley; it was really great to play with them and be more involved in the Fairfax County Schools" said JMU senior violinist Abby Bolcansek.
The concert opened with the JMU Orchestra performing the "Rákóczi March" by Hector Berlioz. This was followed by Rebecca Clarke's "Sonata for Viola and Orchestra," which is Clarke's best-known work. Dr. Diane Phoenix-Neal from JMU was featured as the viola soloist.
"I really enjoyed listening to the James Madison Orchestra – they were really put together and it encouraged me to continue with my musical career," said Langley High senior violinist Briton Boiardi.
Next, the Langley Concert Orchestra combined with JMU string musicians played "The Speckled Hen Overture" by William Hofeldt. Unlike most musical compositions about birds, Richard Meyer conveyed images of birds at flight and at rest in his "Of Glorious Plumage" which was performed by the Langley Symphonic Orchestra joined by JMU students. Camille Saint-Saëns' famous "Carnival of the Animals" was played by the Langley Philharmonic Orchestra, displaying three movements including "Fossiles." In "Fossiles," the distinctive rhythms of the xylophone represented the movement of fossils.
For the finale, the JMU Orchestra and Langley Philharmonic Orchestra shared the stage as they played Hector Berlioz's Symphonie Fantastique ("An Episode in the Life of an Artist"), Opus 14. This dynamic piece describes a dream that Berlioz had which involved love and death. The combined orchestras performed movement two, "A Ball," and movement four, "March to the Scaffold," together. Movement five, "Dream of a Witches' Sabbath," was played by the JMU Orchestra only.
Addressing the audience, the JMU Director of Orchestras articulated how impressed he was regarding his involvement with the Langley High School Orchestra and was grateful for the opportunity to be able to perform a Side by Side concert. The JMU Orchestra was on tour in Virginia, but Langley was the only location where high school students had the opportunity to rehearse and perform with the JMU students.
"I really enjoyed working with the Langley High Philharmonic," said JMU sophomore Timone Imimes, "they were really impressive."